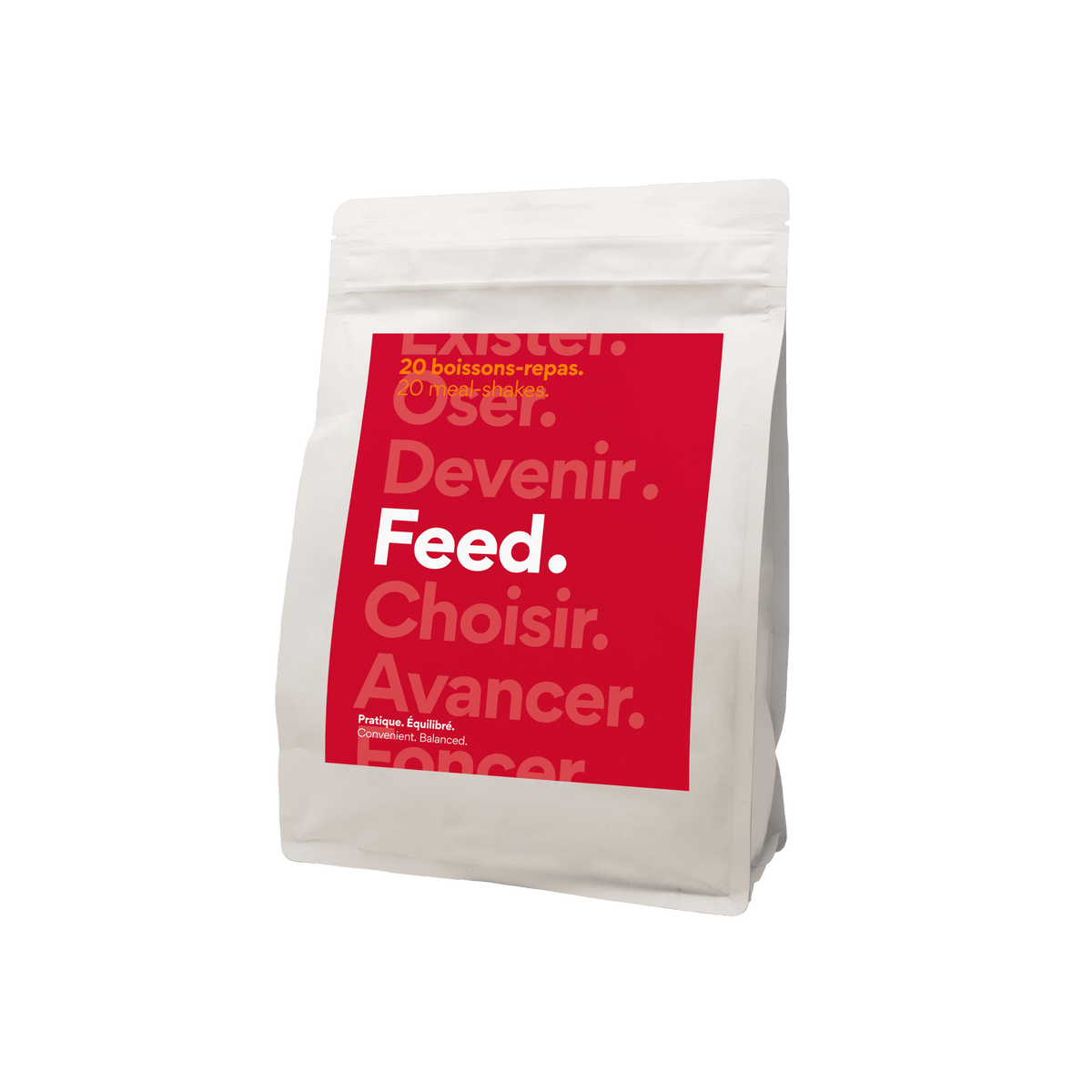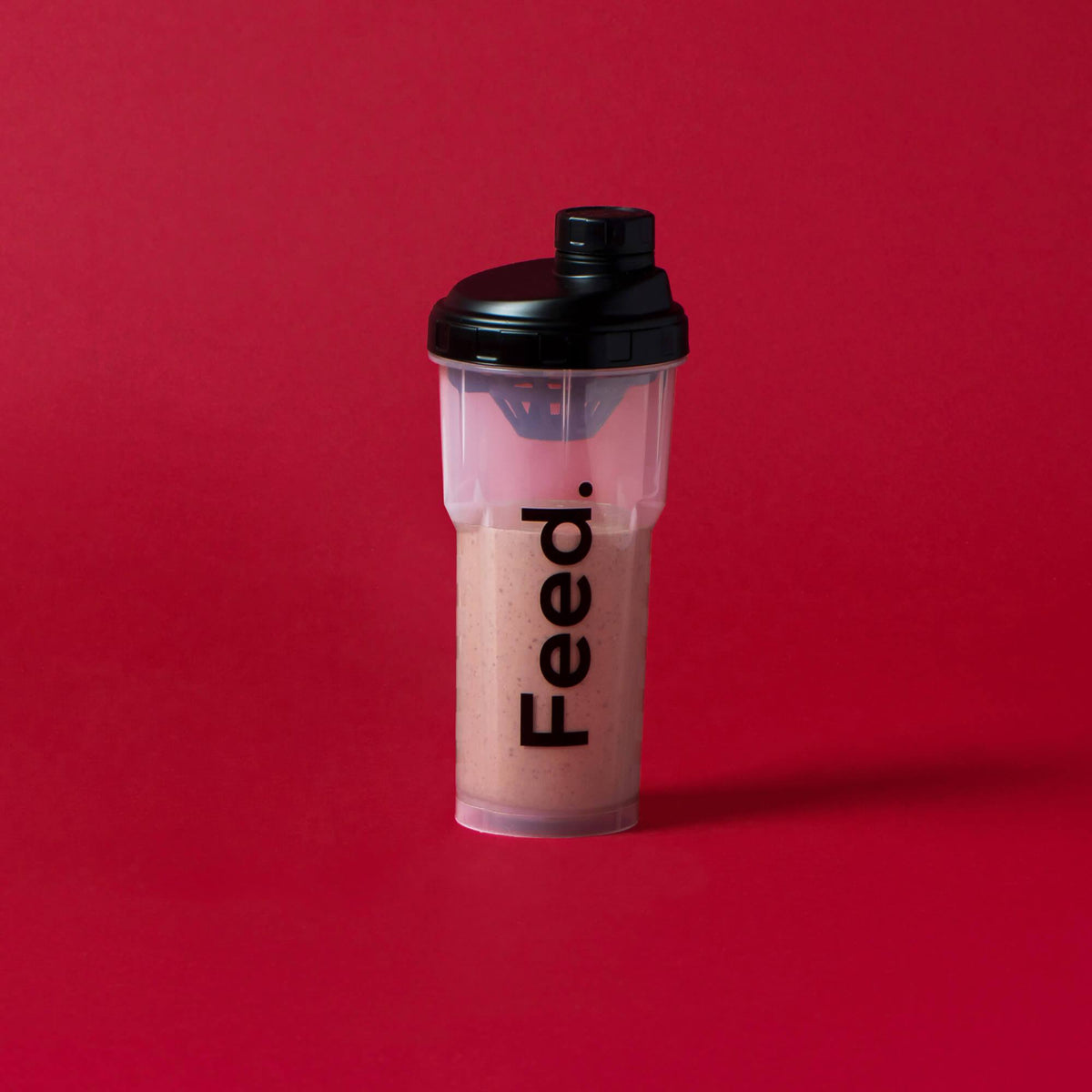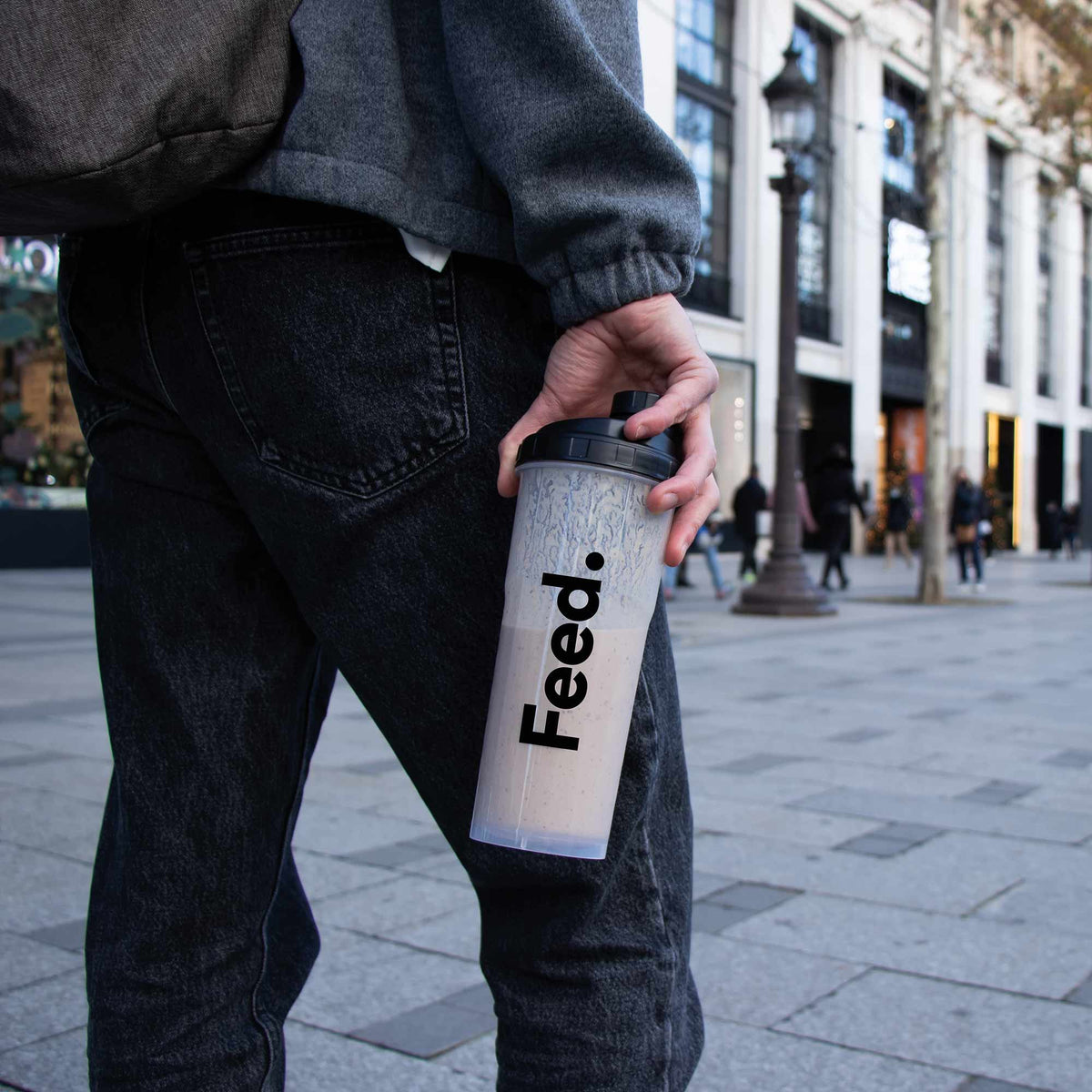 Feed. Original meal-drink
Chocolate.
A delicious and perfectly balanced drink to replace a meal. It is also rich in fibre, protein and no added sugar to ensure quick and lasting satiety. With Feed. Original , give yourself a healthy diet with all the essential nutrients you need. When you want, where you want, replace any meal with a Feed. Original shaker ready in less than 30 seconds.
Bag of 20 meals of 2.3kg.
Use your meal-drink with :
Nutrients.
Nutrients.
In each Feed. Original Chocolate. meal-drink.
Perfectly balanced
Each drink contains more than 16 g of plant-based protein, as well as all the low-GI carbohydrates, essential fatty acids and omega-3s that the body needs.
The power of cocoa
It is very rich in natural antioxidant, magnesium and vitamin E to fight against aging and fatigue.
Vegan and gluten free
We only use quality ingredients that are 100% plant-based and naturally gluten-free and GMO-free.
No sugar added
The drink contains only the sugars naturally present in chocolate. That is less than 5 g per meal.
500 kcal per meal
Each meal drink provides 500 kcal, ideal for a healthy, balanced meal ready in less than 30 seconds.
26 vitamins and minerals
A combination of vitamins and minerals essential to the proper functioning of the body. More than 180 scientifically proven benefits for good health.
Quality ingredients.
Ingredients.
Peas, flax, rice, oats...
Each Feed. Original meal drink is made from ingredients carefully selected for their nutritional properties. They are all of plant origin and naturally gluten-free and lactose-free.

We add a unique blend of 26 vitamins, minerals and trace elements to give you just the right amount of vitamins C, A, E, D, B12, B9, iron, calcium, zinc and many more.

We also strive to keep our impact on the environment to a minimum by selecting 100% vegan ingredients with a long shelf life to avoid food waste. As for our packaging, it is recycled and recyclable.
See the ingredients
Read more.
Read more.
On the meal drink Original Chocolate.
The meal drinks Original are complete, balanced meals with no added sugar. Healthy, convenient and 100% plant-based, they allow you to take care of your diet wherever you are (at home, at the office, on a trip...) and provide you with all the essential nutrients for a complete and balanced meal.
Replace any meal with one from Feed. Original .
To sum up
A healthy, complete and balanced meal.

Rich in fibre and protein for lasting satiety.

Replaces any meal.

Practical and economical.
Preparation.
Pour 300 ml of water into the shaker.
Add your 3 Feed. Original pods (115g).
Shake! Drink!
Storage.
Store the sachets in a cool, dry place.







Your questions.
Questions.
Our answers.
A meal drink contains all the micro and macro nutrients you need. Protein. Carbohydrates. Fat. Fibre. Vitamins & minerals. Designed by nutrition experts to have a super convenient meal. To simplify your daily life. And last until your next meal.
At work. On the go. On a hike. At home.
In the morning. Noon. Or evening. Whenever you need it.
When you want to save time. Optimize your day. Avoid skipping meals. It's up to you to adjust your consumption according to your needs and desires.
Preparation.
First, pour 300 ml of water into the shaker. Add 3 scoops (115g) of Feed powder Original. Shake! Enjoy!

Water, milk, plant-based milk.
We recommend mixing with water, however you can use milk or plant-based milk if you like (however, this will modify the nutritional values ​​of your meal drink).

Temperature.
We recommend preparing your shaker with water at room temperature. Indeed, the heat may deteriorate the vitamins and minerals in our recipes, which are sensitive to it.
Yes, you can eat it every day for a period of time. However, to have a balanced diet, you have to think about eating a variety of foods!

No contraindications except for the following cases:
Children and Adolescents. Nutritional needs are different from those of an adult.
Pregnant women. Precaution vis-à-vis vitamin A and soy. Do not hesitate to ask your doctor for more information.
Special diets. Ketogenic or who must be low in FODMAPS or certain vitamins & minerals.
The expiry date for mealtime drinks Original is 12 months from the date of manufacture. In general, you should not receive products with an expiration date of less than 3 months.
We recommend that you keep your packets in a cool, dry place.
None of our powders contain allergens. This is the result of relentless R&D and a rigorous selection of quality ingredients.
Good taste but doesn't mix well
A good product
To improve, I mix it with half water and half Alpro soy milk.
Sport and pleasure
I take Feed Chocolat with me on my trails (as a meal drink). It gives me the boost I need to keep on running, with an added touch of pleasure.
Tastes delish!
Once you open the packet a lovely smell comes out! So far I have only tasted a cup of the drink. It has a similar taste to oat chocolate milk or oat meal baby powder! So far it's my favourite out of the other 2 I have tasted. Will definitely order more! I like these meals because I am a picky eater and this is one way of making sure that I get my nutrients! So, so far I have had chocolate (ofc), vanilla and berries. The ultimate tip for all three would be to have them with cold water and ice and to drink them asap as they tend to separate and powder ends up in chunks! This is something that was implied (to my understanding) in the description when it's stated not to let the drink sit out for too long. Unfortunately it starts to settle and chunk up quicker and within a few seconds
excellent
Personally, I dilute the powder with a chocolate oat drink. It's even better than water.
Chocolate meal
I find this chocolate meal very well balanced in cocoa. I'm pleasantly surprised by the quality of the product. It mixes very well in the shaker Feed. The texture is super smooth and digestion is perfect. I tested it an hour before sport and had no intestinal discomfort.
Very good product.
Satisfied
Meal drink chocolate taste, it surprises but it is good!
Especially after 1h in the fridge
The bars are very good.
For the meal bag I had never taken the chocolate. The taste is a little too neutral like chocolate without sugar.
Chocolate my favorite
Always a success with good products and a pleasant and available customer service, a fast delivery and I find the good taste of my chocolate feed, just a little sad not to have the coffee flavor anymore and a sport feed that chocolate would be perfect