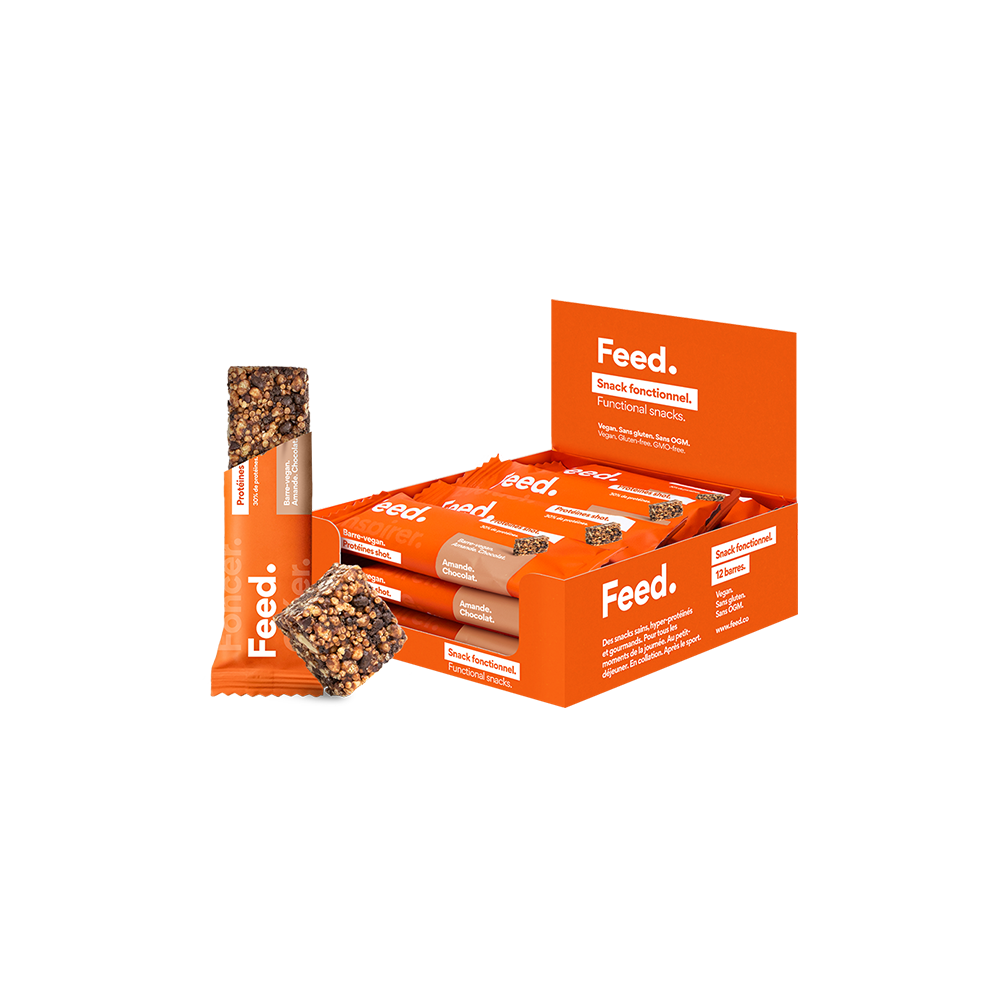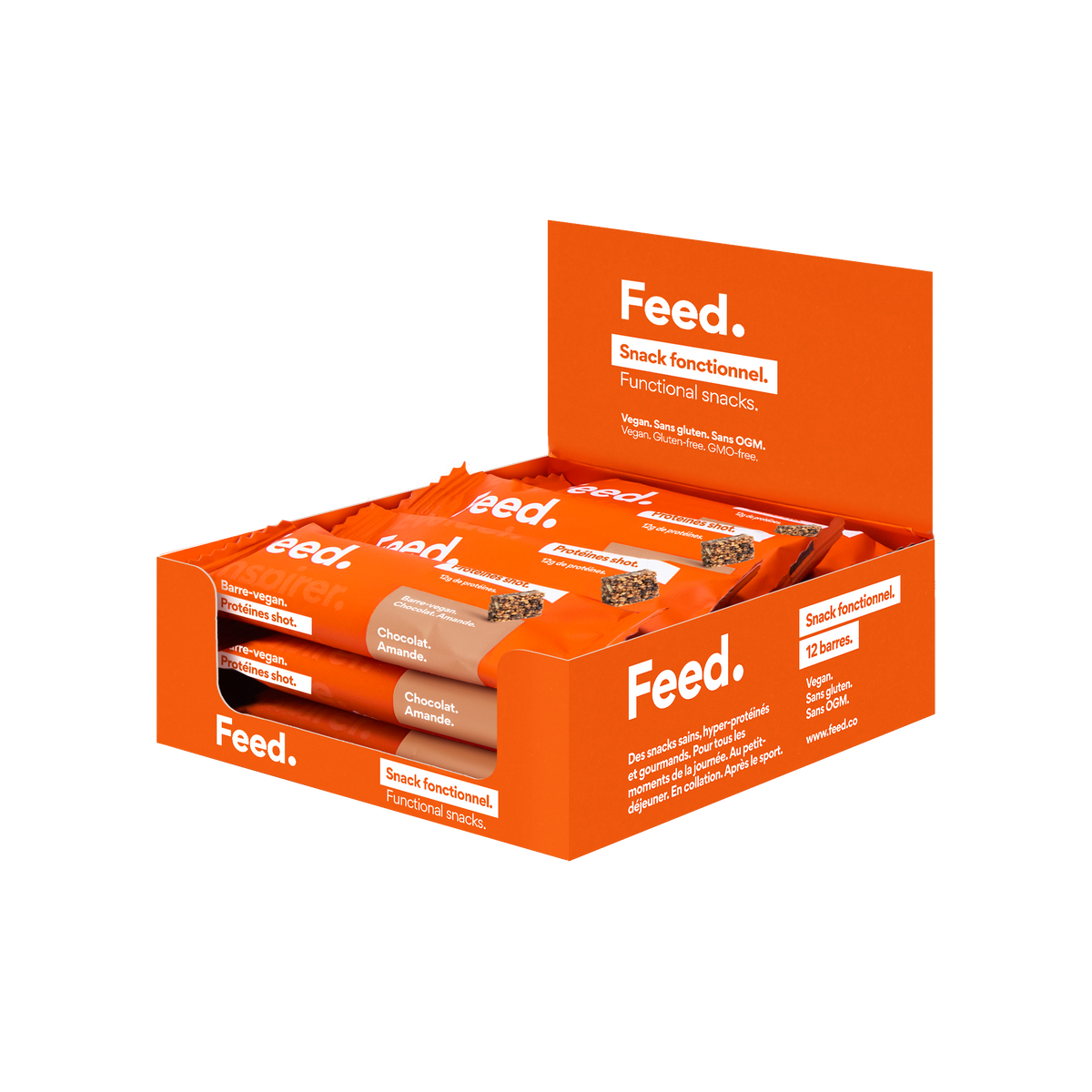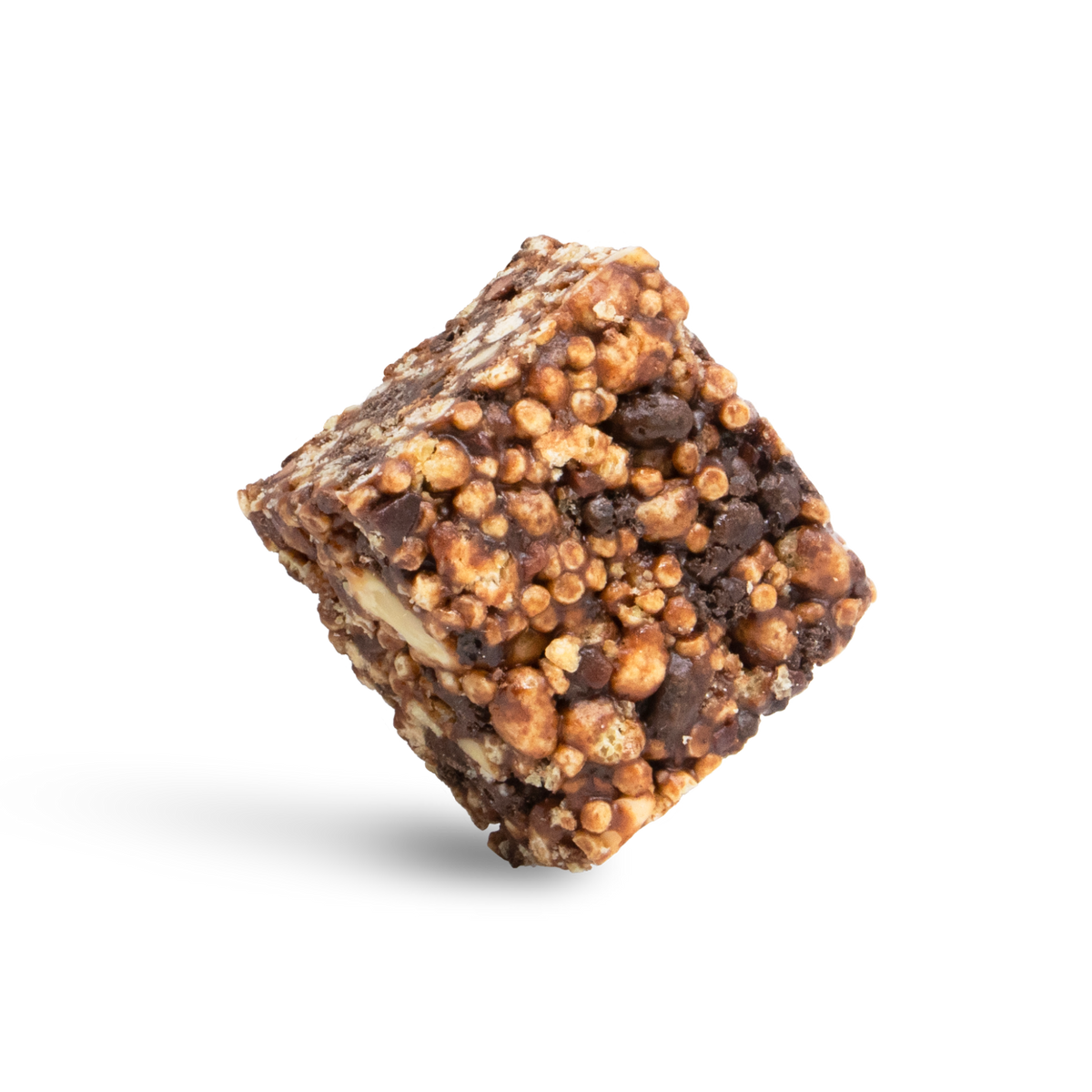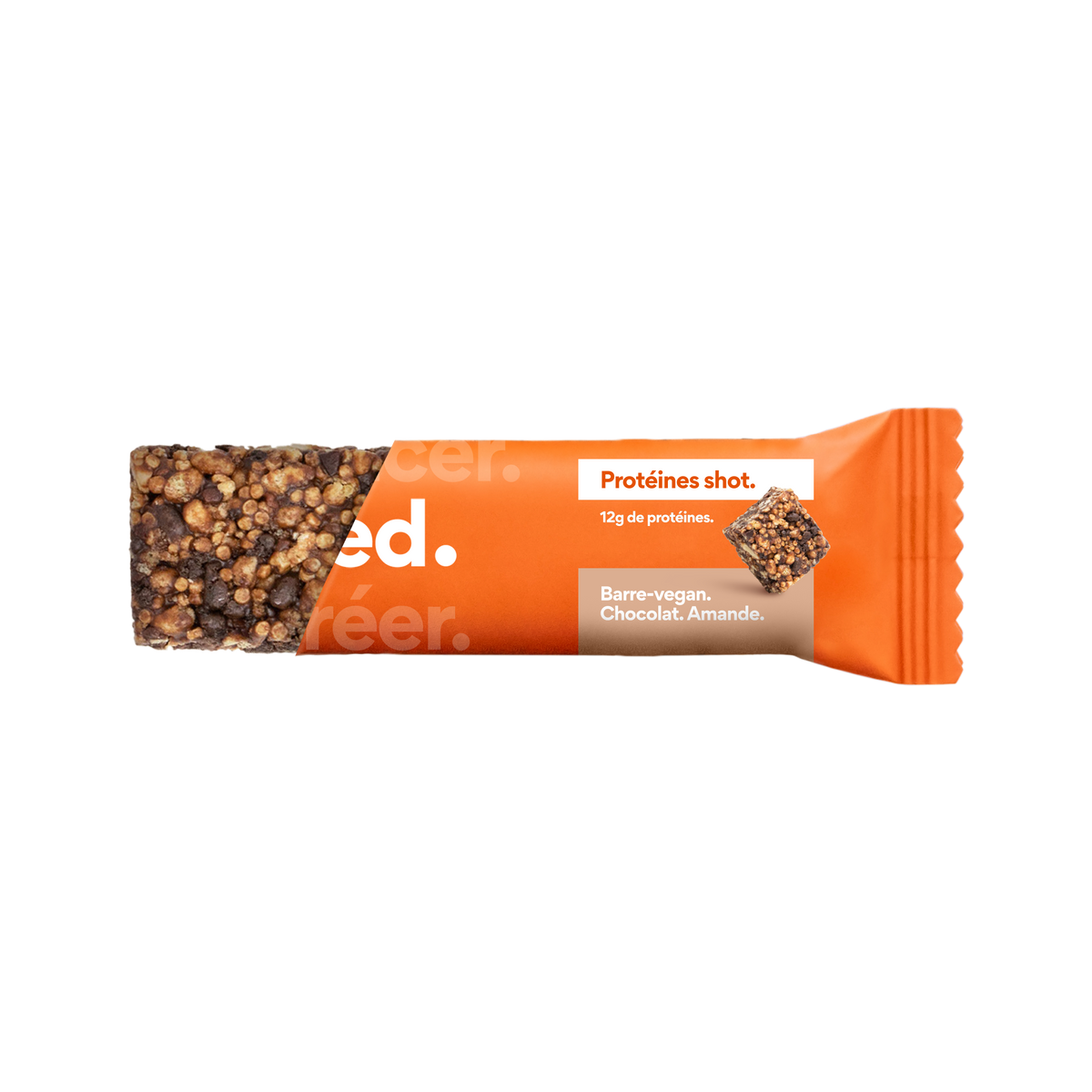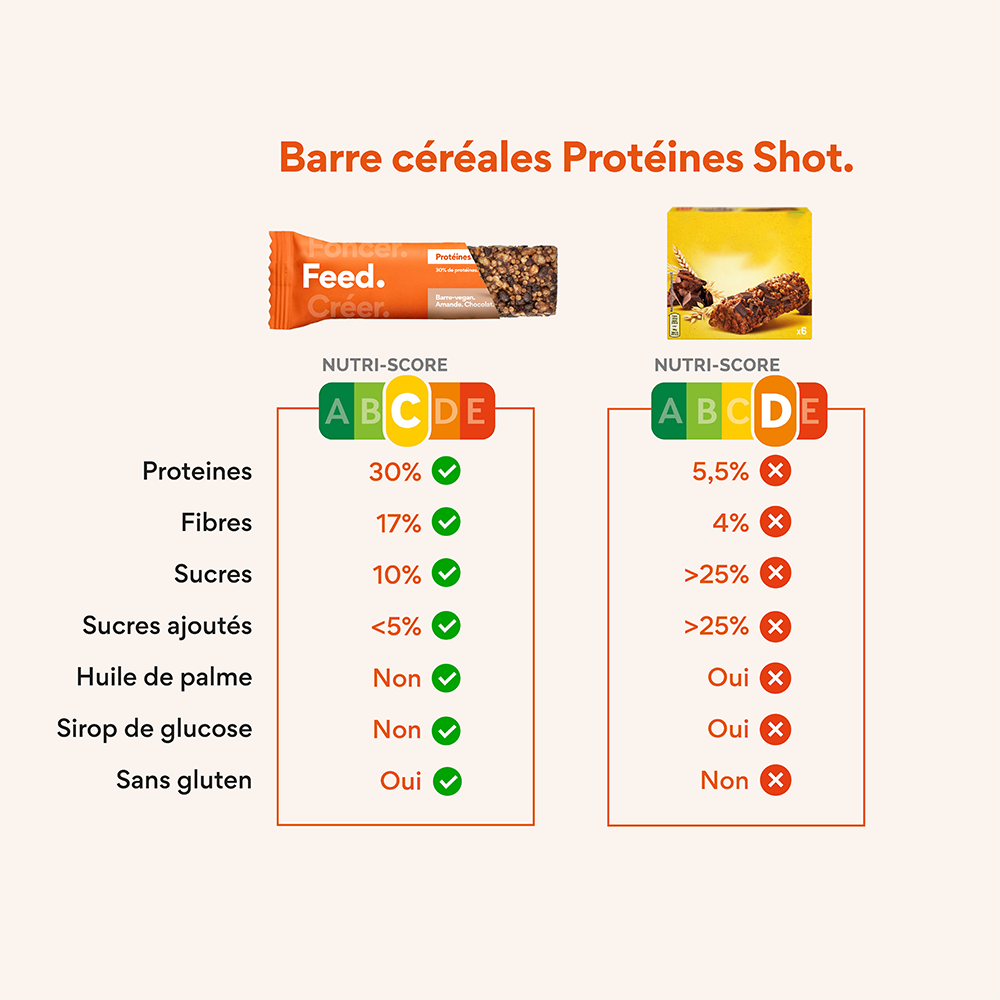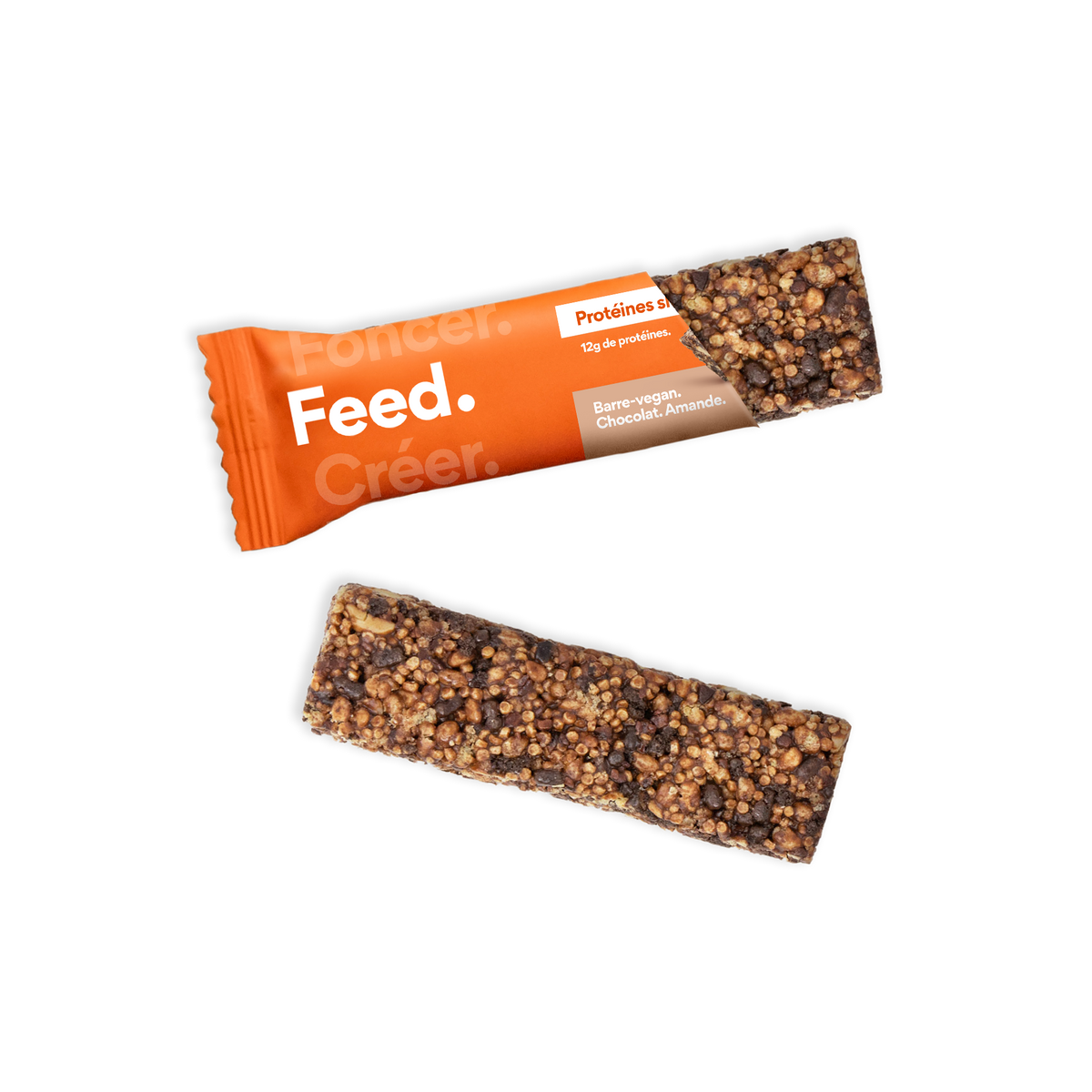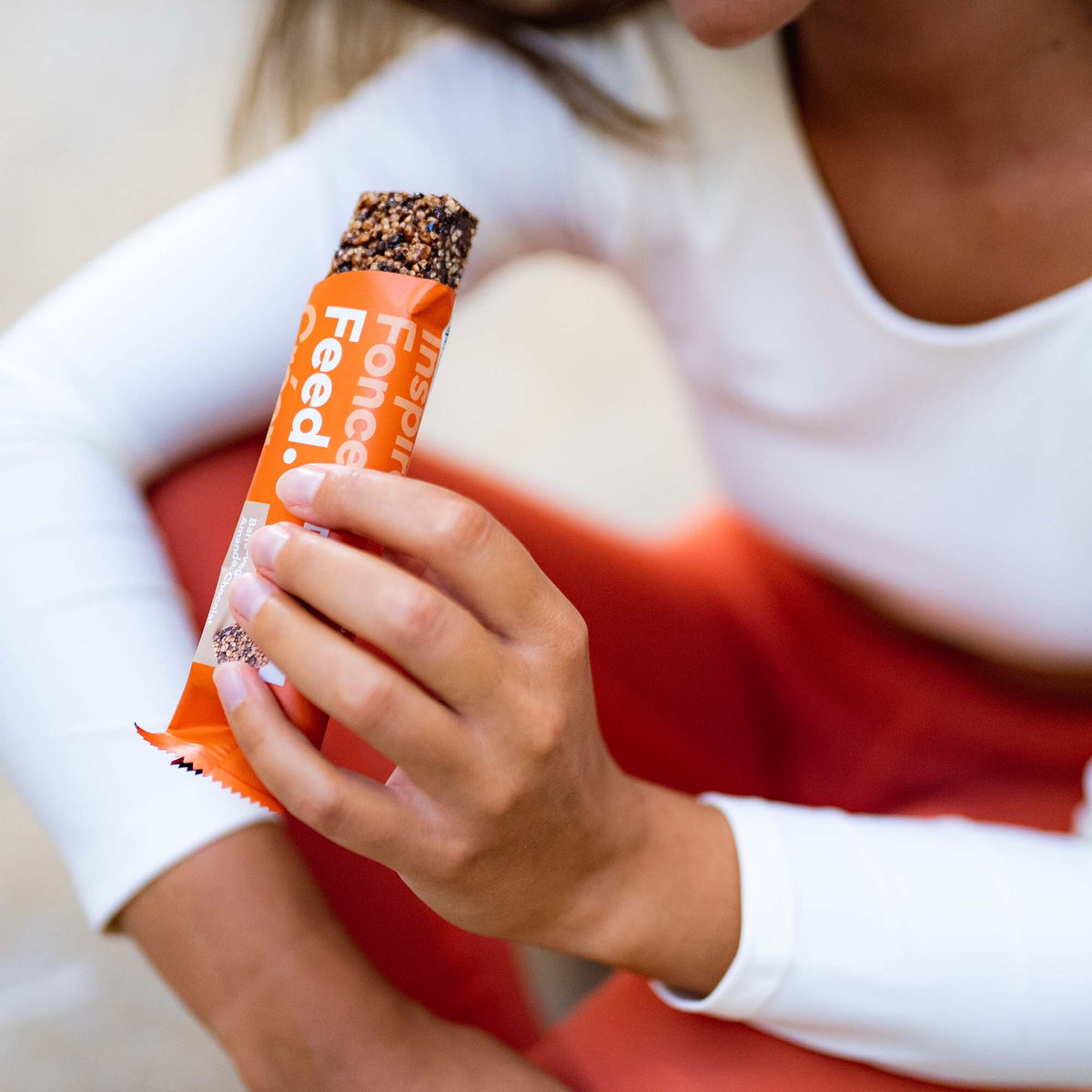 Protein Shot Cereal Bar Feed. Snack - Sold by 12.
Chocolate. Almond.
A delicious 40g Protein shot bar with chocolate and almond!
With 12g of vegetable protein and very little sugar, it is the ideal snack to increase your protein intake in a healthy way or simply to improve your diet. Whether you're a sportsman or not, protein is essential for getting fit and reaching your goals.
Nutrients.
Nutrients.
In every delicious Protein Shot. Chocolate. Almond.
30% protein
A healthy, sporty and ultra-protein bar, ideal for muscle building and recovery!
Vegan and gluten free
Unlike other high-protein bars, our recipe uses no milk or gluten to take care of the digestive system.
Pea, soy and almond proteins
The optimal trio of vegetable proteins to provide all the essential amino acids for building muscles.
Only 4g of sugars
A unique formula with very little sugar to stay in great shape and avoid blood sugar spikes.
Ultra-crispy
Puffed billets and cocoa bean and almond chips for a crunchy and crispy texture.
Cocoa beans
Very rich in polyphenols, cocoa beans are powerful antioxidants. They protect the body against oxidative stress linked to intense physical effort.
Quality ingredients.
Ingredients.
Peas, almonds, cocoa beans...
Each Protein Shot cereal bar is made from ingredients carefully selected for their nutritional properties. They are all plant-based and naturally gluten and lactose free. We add three sources of protein such as pea or almond for optimal results.

We also strive to keep our impact on the environment to a minimum by selecting 100% vegan ingredients with a long shelf life to avoid food waste. As for our packaging, it is recycled and recyclable.
See the ingredients
Read more.
Read more.
On the cereal bar. Protein Shot. Chocolate. Almond.
The Feed. cereal bar Almond. Chocolate cereal bar is a healthy, high-protein, low-sugar snack. It is designed for muscle building and recovery, and is a healthy way to quell hunger pangs. It is rich in protein from the best vegetable sources for optimal effectiveness.

At any time of the day, at breakfast, before or after sport: fill up on proteins to stay in shape, to surpass yourself, to perform and to progress.
To sum up
30% protein = 12g per bar.

Very low in sugar.

Ultra tasty and crispy.

To improve your diet and take care of your muscles.
Preparation.
Open. Enjoy.
Storage.
Store snacks in a cool, dry place.







Your questions.
Your questions.
Our answers.
Absolutely! With 30% protein, our Protein Shot. snack is designed for muscle building and recovery.
Before or after sport, fill up on protein to push yourself, perform and progress. It is also the perfect breakfast for sportsmen and women.
Get all the energy and nutrients you need to train longer.
Yes, it is. This snack is rich in fibre and protein, so it will give you lasting satiety to limit hunger pangs and a reduced calorie intake.
The catabolism (burning) of 1g of fat also consumes less energy than the consumption of 1g of protein. The digestion of these macronutrients is a particularly energy-consuming mechanism: choose our Protein Shot snacks instead of traditional snacks to speed up your weight loss!
All dry ingredients are homogenized together. The fiber syrup is gently incorporated into the dry mixture to bind the ingredients together. The mass is spread and pressed between two rollers to calibrate the thickness of the bar. Blades are used to cut the bars to the right size. A rest period is necessary for the syrup to crystallize slowly and for the bars to dry. The bars are then packaged and packed by 12.
The expiration date of our Protein Shot. snack is 12 months from the date of manufacture. In general, you should not receive products with an expiration date of less than 3 months.
We recommend that you store your snacks in a cool, dry place.
Super good and fast delivery
Everything is perfect, Feed customer convinced, there is still the problem of delivery which does not depend solely on you.
The bars are excellent and I recommend them
Very practical
It's very practical for optimizing your lunchtime! On the other hand, I'm not a fan of the texture of meal drinks. Although I'm getting used to it.
Excellent brand
Very satisfied with the products and the concept. You meet a real need. The bars help me avoid skipping meals and eat a more balanced diet.
My favorite bars
top composition + delicious taste = a real success! It's become my favorite morning snack. Not too sweet and nice and crispy. I highly recommend it, thank you feed!
Delicious!
These bars are perfect for my snacks or just before my running sessions, I recommend them!
Excellent
Used to quality bars, I bought these bars with an excellent composition.
They are very good. I recommend
At the top
Very fast order
The products are very good
Good value for money. I recommend it.
Effective on satiety
Satisfied with the product, pleasant taste, a nice crunchy touch and effective on satiety.