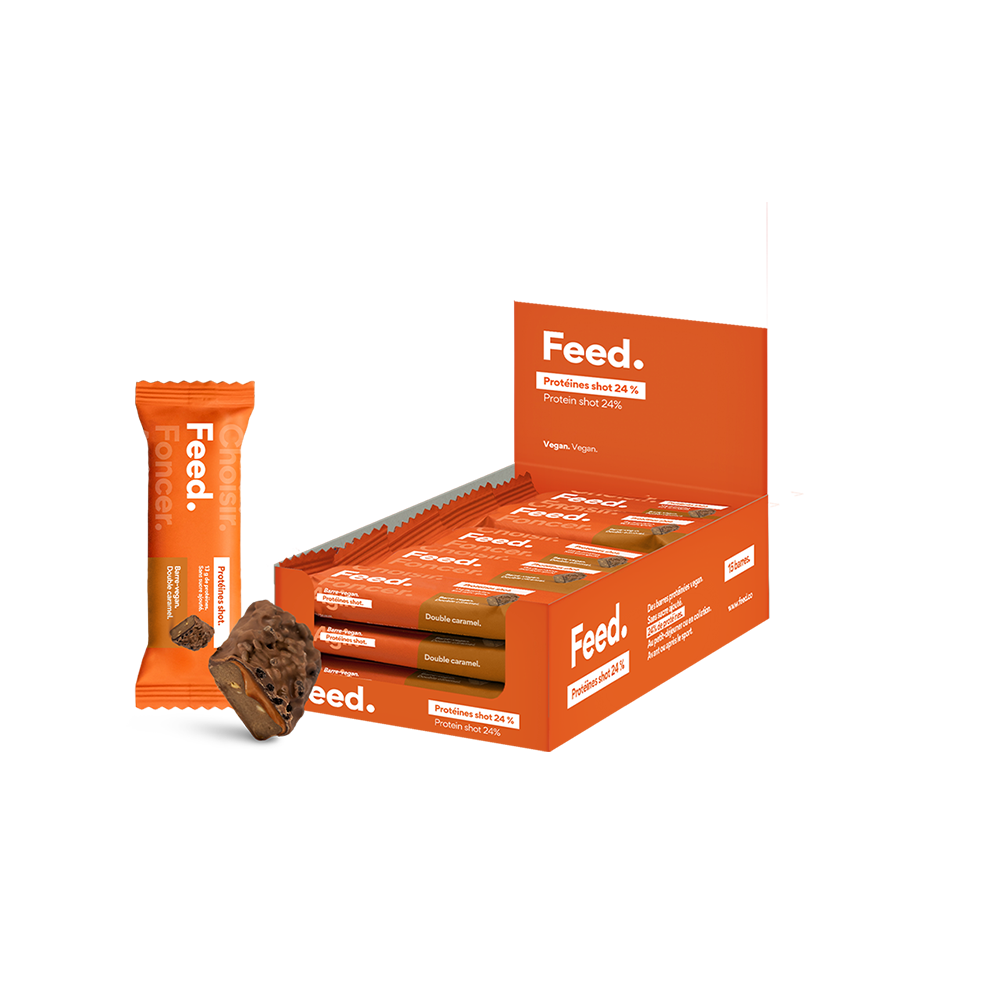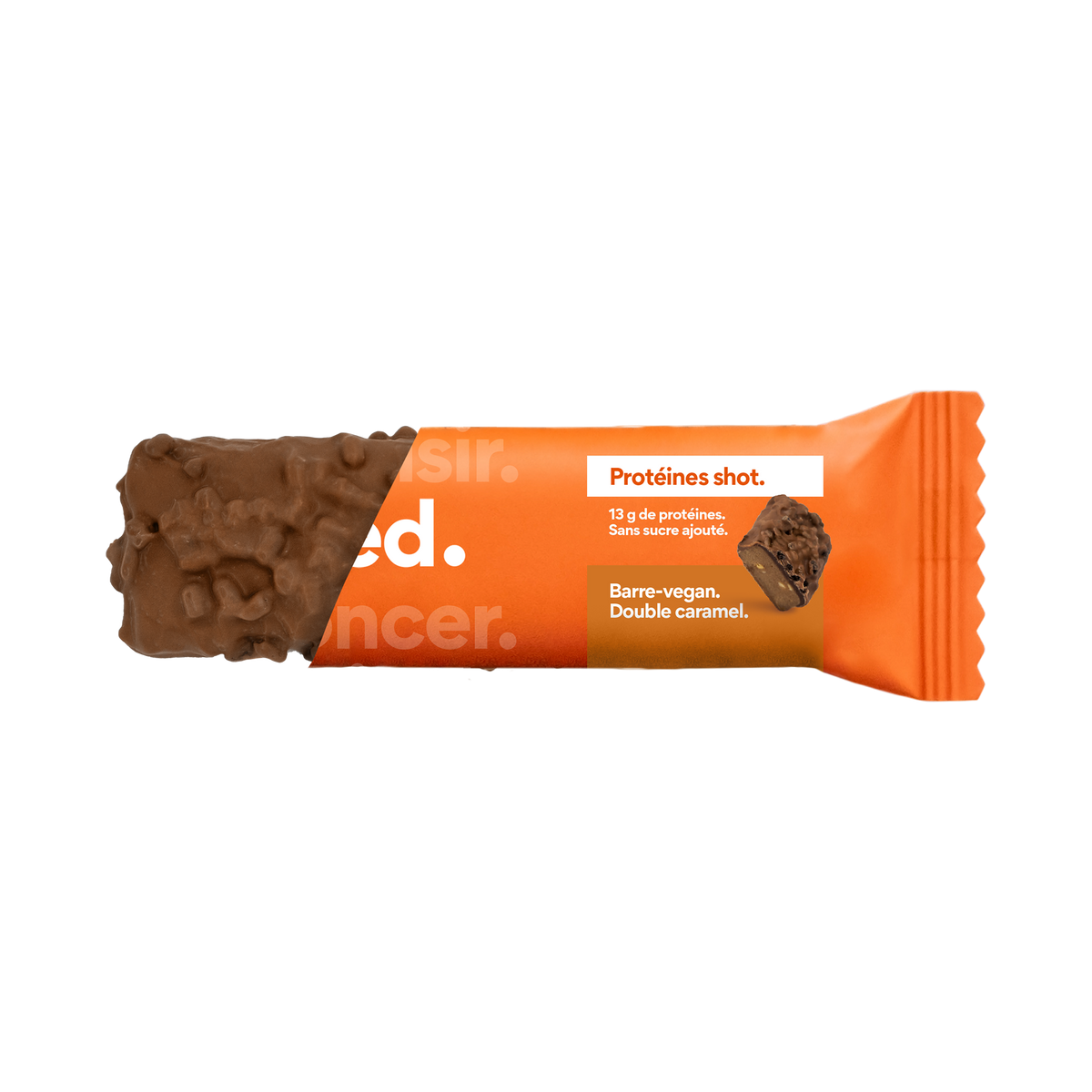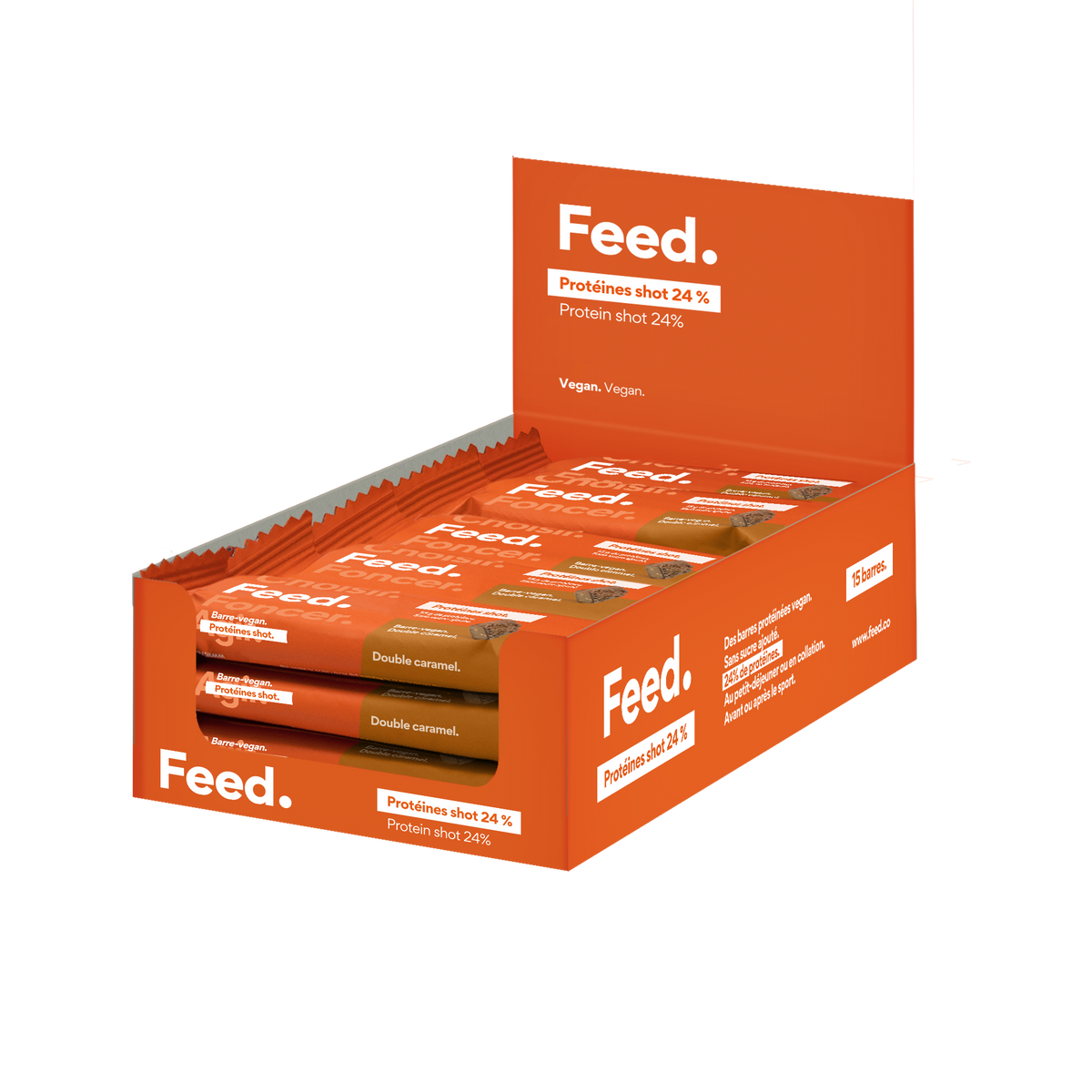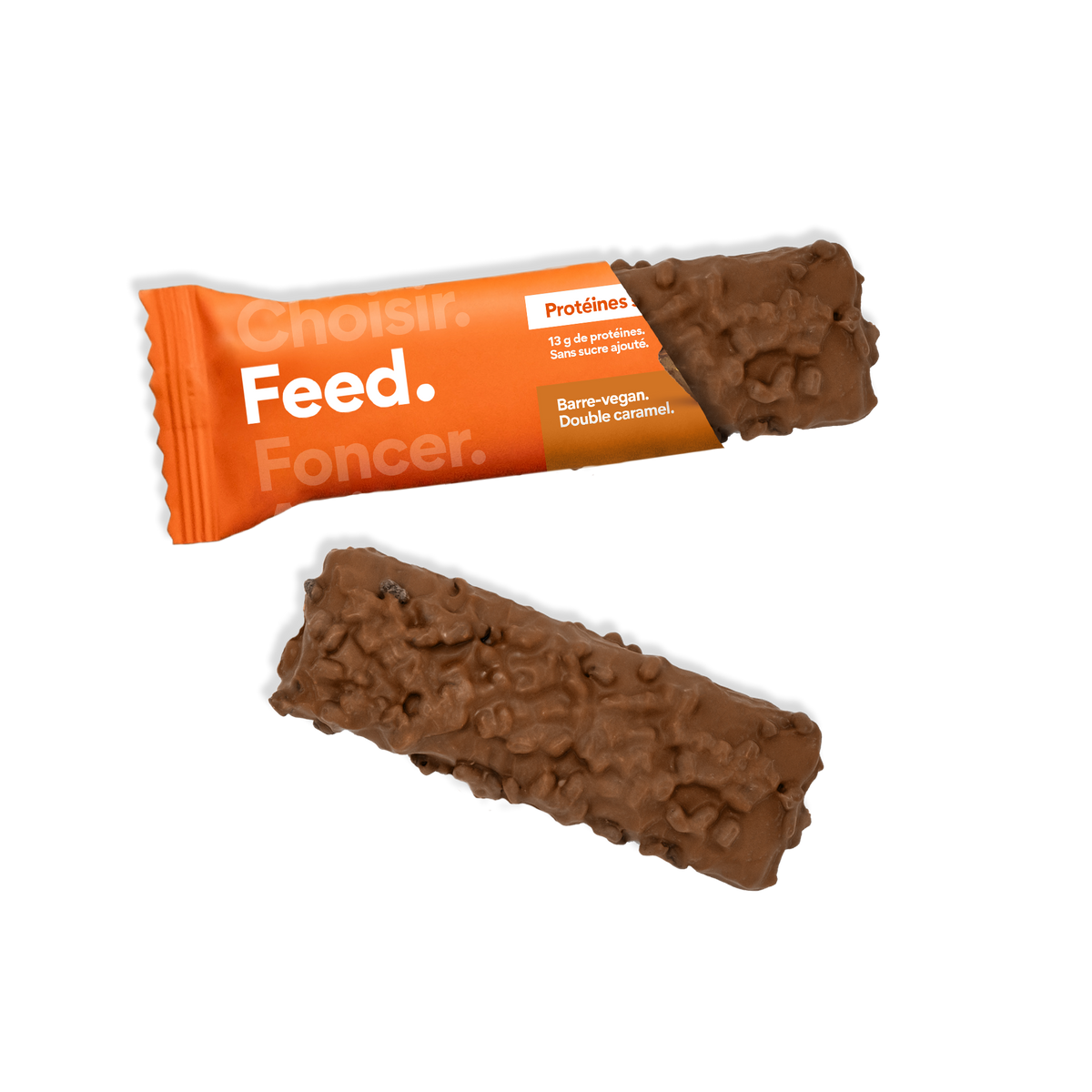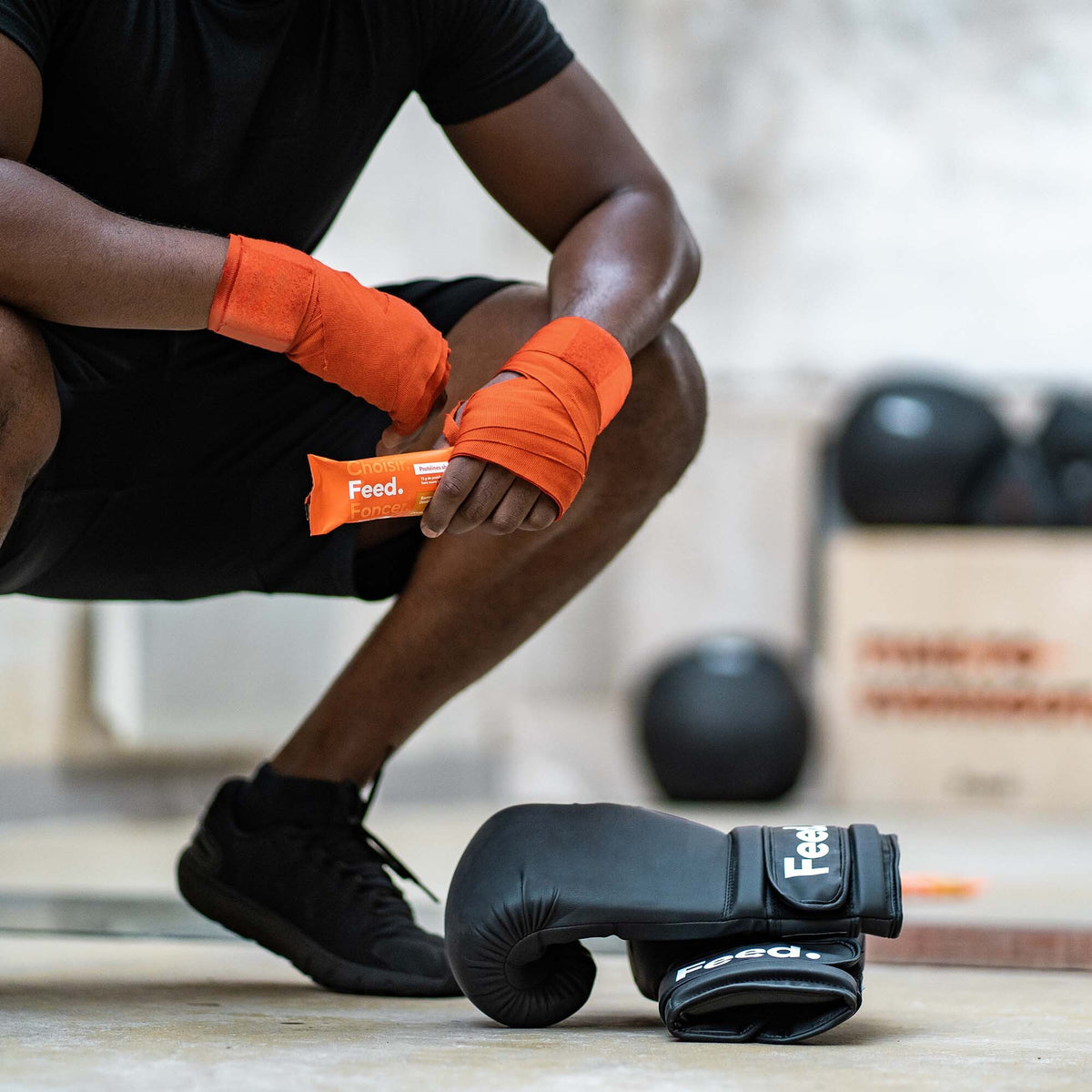 Vegan Protein Shot Bar. Feed. Snack - Sold by 15.
Double caramel.
A delicious 55g high-protein shot protein bar with a melting caramel heart.
With 13g of vegetable protein and 0 sugar, it is the ideal snack to increase your protein intake in a healthy way or simply to improve your diet. Whether you are a sportsman or not, proteins are essential to be in shape and reach your goals.

Nutrients.
Nutrients.
In every delicious Protein Shot bar. Double caramel.
24% protein
A healthy, sporty and ultra-protein bar ideal for muscle building and recovery!
Vegan and gluten free
Unlike other high-protein bars, our recipe uses no milk or gluten to take care of the digestive system.
Pea, soy and rice protein isolates
The optimal trio of vegetable proteins, to provide all the essential amino acids for building muscles.
0g sugar
A unique sugar-free formula to keep you fit and avoid blood sugar spikes.
Ultra-gourmet
A runny caramel heart with real hazelnut chips, covered with a thin layer of sugar-free chocolate.
Easy to digest
A very easy to digest recipe, ideal even before training.
Quality ingredients.
Ingredients.
Peas, rice, hazelnut...
Each Protein Shot. bar is made from ingredients carefully selected for their nutritional properties. They are all plant-based and naturally gluten and lactose free. We add three sources of protein such as peas and rice for optimal results.

We also strive to keep our impact on the environment to a minimum by selecting 100% vegan ingredients with a long shelf life to avoid food waste. As for our packaging, it is recycled and recyclable.
See the ingredients
Read more.
Read more.
On the Protein Shot bar. Double caramel.
The Feed. Protein Shot. Double Caramel is a healthy, high-protein, sugar-free snack. It is designed for muscle building and recovery, and is a healthy way to quell hunger pangs. It is rich in protein from the best vegetable sources for optimal effectiveness.

At any time of the day, at breakfast, before or after sport: fill up on proteins to stay in shape, to surpass yourself, to perform and to progress.
To sum up
24% protein.

0 sugar.

Ultra tasty and melting.

To improve your diet and take care of your muscles.
Preparation.
Open. Enjoy.
Storage.
Store snacks in a cool, dry place.







Your questions.
Questions.
Our answers.
Absolutely! With 24% protein, our Protein Shot. snack is designed for muscle building and recovery.
Before or after sport, fill up on protein to push yourself, perform and progress. It's also the perfect sportsman's breakfast.
Get all the energy and nutrients you need to train longer.
 It's an ultra-gourmet bar: a soft and chewy core, a smooth peanut coating, and a crunchy, melting chocolate coating.
The expiration date of our Protein Shot. snack is 9 months from the date of manufacture. In general, you should not receive products with an expiration date of less than 3 months.
We recommend that you store your snacks in a cool, dry place.
Delicious
The best bars on the market.
As good as ever
Quality and taste are always there.
A little problem with delivery but quickly fixed.
The little pleasure of the day
Double caramel (PAV bar-vegan Protein shot caramel / Snack)
Delicious and practical
Better than twix and very practical for hiking.
Good taste
A good, easily digestible product, I'd eat it just for the pleasure of it.
Double vegan caramel
Delicious energy bars for sports! 🏋️‍♀️
Very good
I was expecting an ultra sweet bar, I was pleasantly surprised, the feed bars do not have that ultra sweet or very dry taste of the competitors. I highly recommend the bars, they are great for when conditions are bad enough to eat quietly.