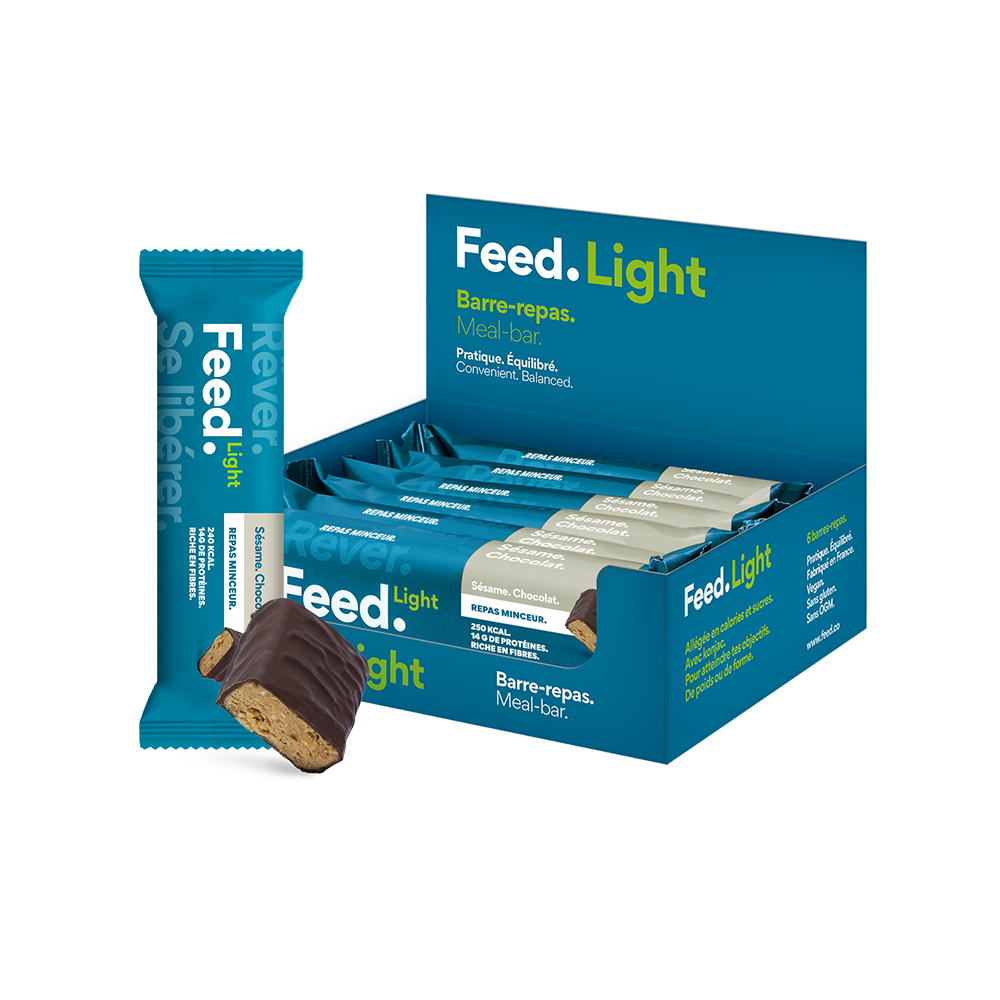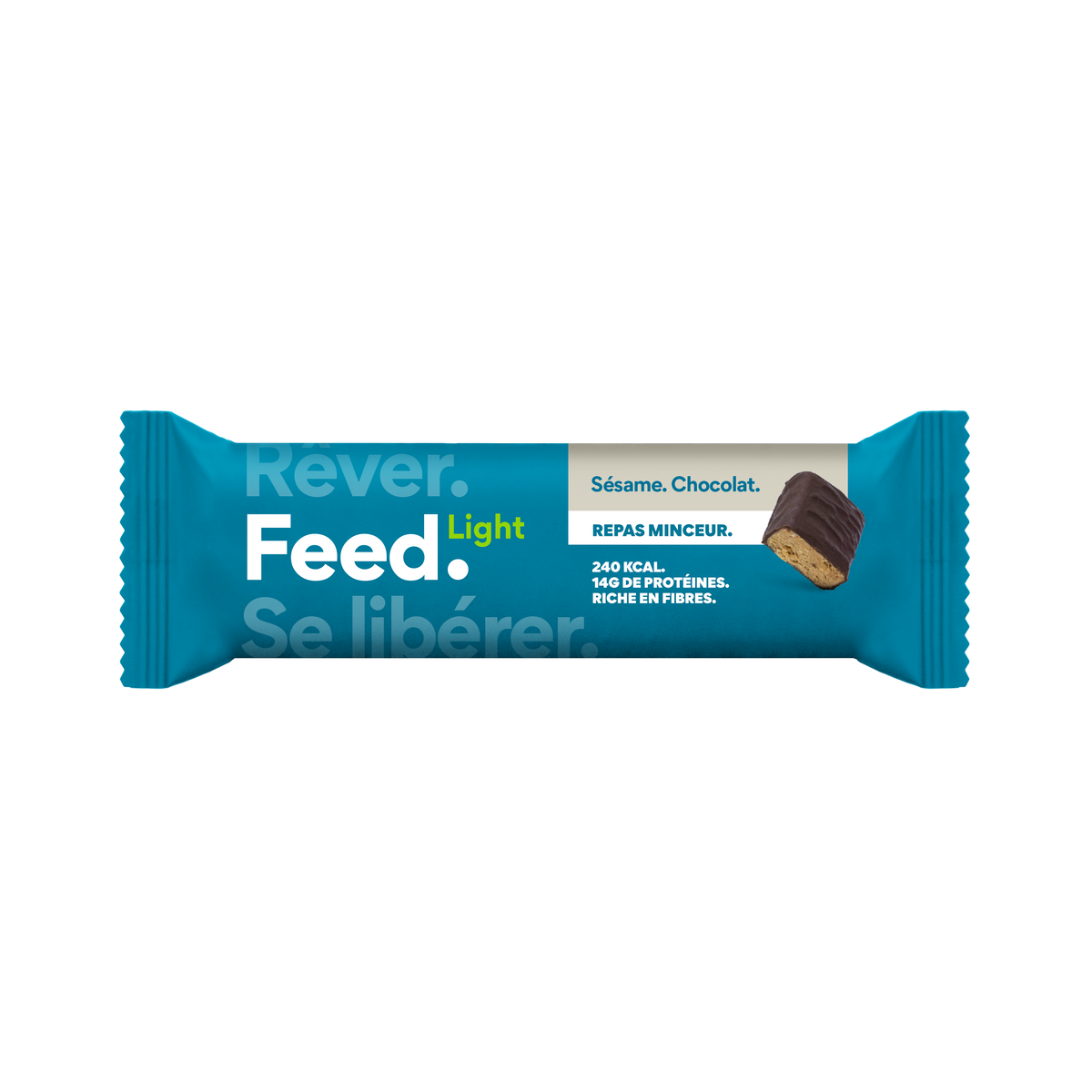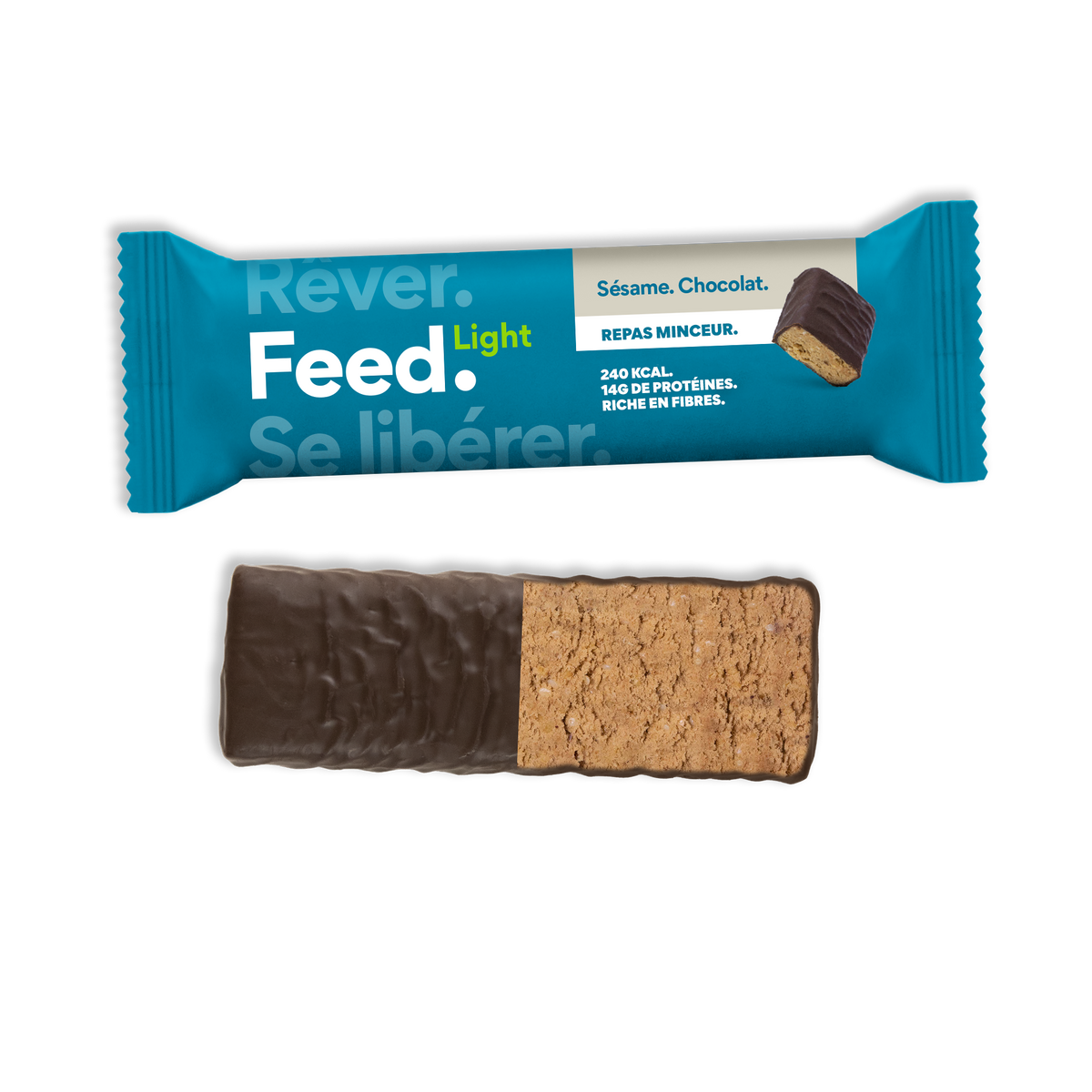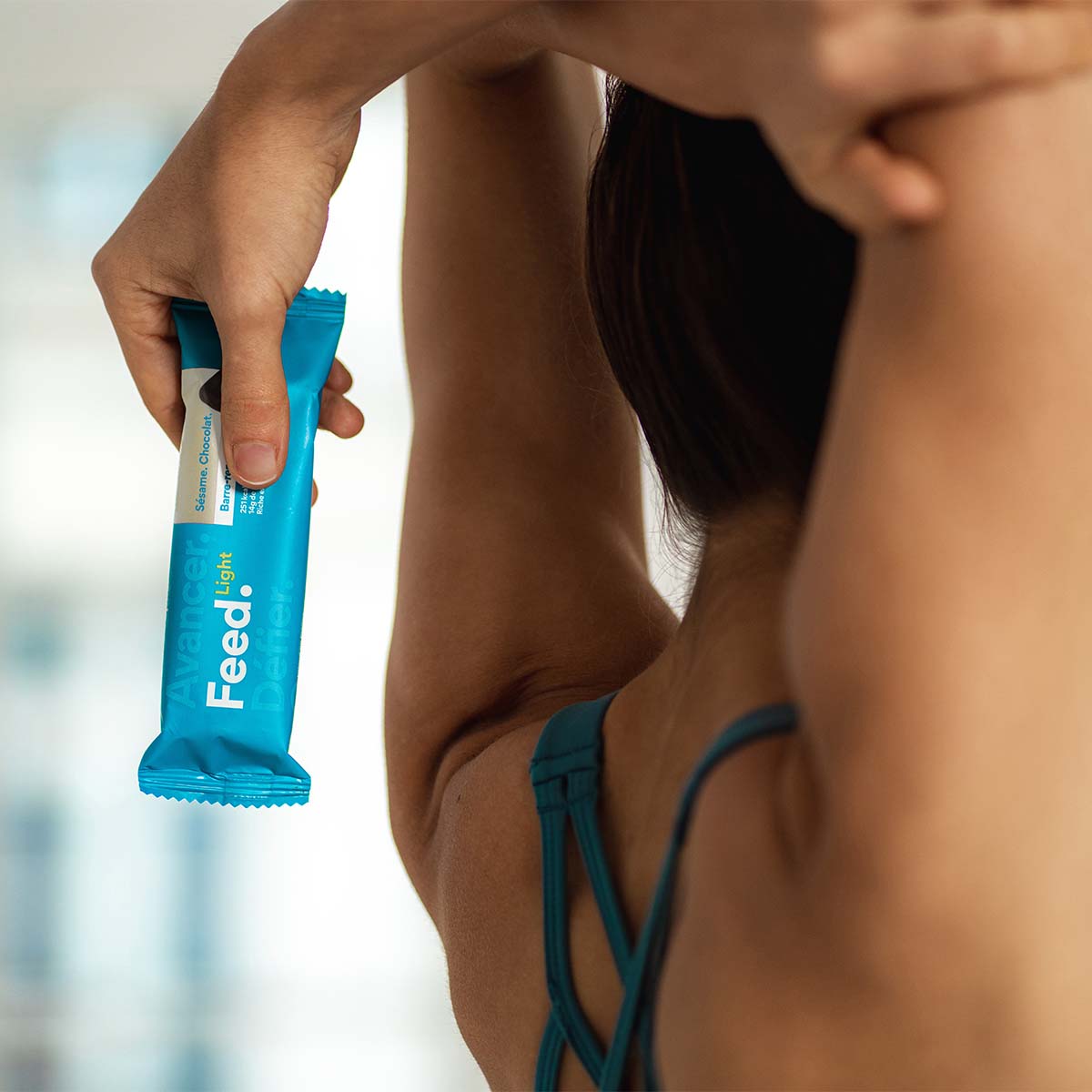 Feed. Light meal-bar - Sold by 6.
Sesame. Chocolate.
An ultra greedy and low calorie bar of 70g to replace a meal in the framework of a weight loss. Rich in fibre, protein and superfoods, it ensures rapid and lasting satiety. With Feed. Light , offer yourself a healthy and light diet to reach your weight loss objectives and get back in shape.
Nutrients.
Nutrients.
For a meal bar Feed. Light Sesame. Chocolate.
Only 250 Kcal
A gourmet meal with less than 250 kcal that gives you just the essentials and allows you to quickly reach your weight loss goals.
Rich in fibre and protein
Plant-based fibres and protein provide long-lasting satiety and are not stored as fats. No cravings or weight gain.
Gluten-free
High-quality ingredients for a certified 100% gluten-free and GMO-free bar.
Konjac appetite suppressant
Extracted from a root, konjac is a superfood that has the power to retain water from the stomach and helps you feel full.
Less sugar than in a fruit
With only 8 g of sugar per meal, it is half as much as in a fruit with a low glycemic index.
25 vitamins and minerals
More than 180 scientifically proven benefits to stay healthy.
Quality ingredients.
Ingredients.
Peas, rape, konjac...
Each Feed. Light meal bar is made from ingredients carefully selected for their nutritional properties. They are all plant-based, naturally gluten-free and lactose-free.

We add a unique blend of 25 vitamins, minerals and trace elements to give you just the right amount of vitamins C, A, E, D, B12, B9, iron, calcium, zinc and many more.

We also strive to keep our impact on the environment to a minimum by selecting 100% vegan ingredients with a long shelf life to avoid food waste. As for our packaging, it is recycled and recyclable.
See the ingredients
Read more.
Read more.
On the meal bar Light. Sesame. Chocolate.
Meal bars Light. are low-calorie, low-sugar, healthy and convenient meals. They allow you to take care of your diet and keep your weight under control wherever you are (at home, at the office, on a trip...). These bars provide you with all the essential nutrients for a light and balanced meal.

For an optimal effect, replace one or two meals a day with a meal Feed. Light .
To sum up
A meal with less than 250 kcal.

Konjac, fibre and protein for satiety.

Reach your weight loss or fitness goals.

The essential to get back in shape.
Preparation.
Open. Enjoy.
Storage.
Store in a cool, dry place.







Your questions.
Your questions.
Our answers.
Yes, your Feed. Light meal-bar is reduced in calories, sugars and fats for a light and nomadic experience. It replaces any meal. To lose weight. Or to anticipate an excess.
At home. At work. On the go. During your activities.
In the morning. Noon. Or evening. Whenever you need it.
To lose weight. To anticipate an excess. To rebalance your diet. Or to start a cure. We recommend 1 to 2 Feed. Light per day. It's up to you to adjust your consumption according to your goals.
First, it's a thin layer of intense, crunchy dark chocolate that coats your bar. Then a soft core with a nutty taste of sesame which goes perfectly with the intensity of the chocolate.
The expiration date for Light meal bars is 9 months from the date of manufacture. In general, you should not receive products with an expiration date of less than 3 months.
We recommend that you keep your meal bars Feed. in a dry place and away from light.
Excellent
Easy order%2C fast delivery and excellent products. I would recommend again with great pleasure
Amazing
Deliciously addictive. The best I've tried ever.
Taste and satiation
One bar in the morning, with a cup of coffee for me, and my morning is hunger-free... I love it and I agree ...
Light sesame chocolate meal bars
They are super good and very nourishing! Thank youiiiiii for existing Feed! ♡♡♡
A light of ouf
The sesame-chocolate bar is my favorite of all the lights. Not too sweet, not too crumbly, and there are those little seeds in the mouth, very nice.
As usual impeccable
Excellent products, a little expensive... But they do the job.
An effective way to get rid of meals
I travel a lot and I have to admit that bringing back my meal has become a constraint because I often have a very heavy bag. The sesame-chocolate bar is perfect: it tastes good and goes everywhere. And above all, it allows me to avoid, for example, sandwiches that are too high in calories.
My favorite, I hesitated to order, but not disappointed, fast delivery. Thank you
Very good taste with a creamy sensation and a satiety effect
Excellent
Super fast delivery and the taste of the bars are excellent and it goes down quickly.