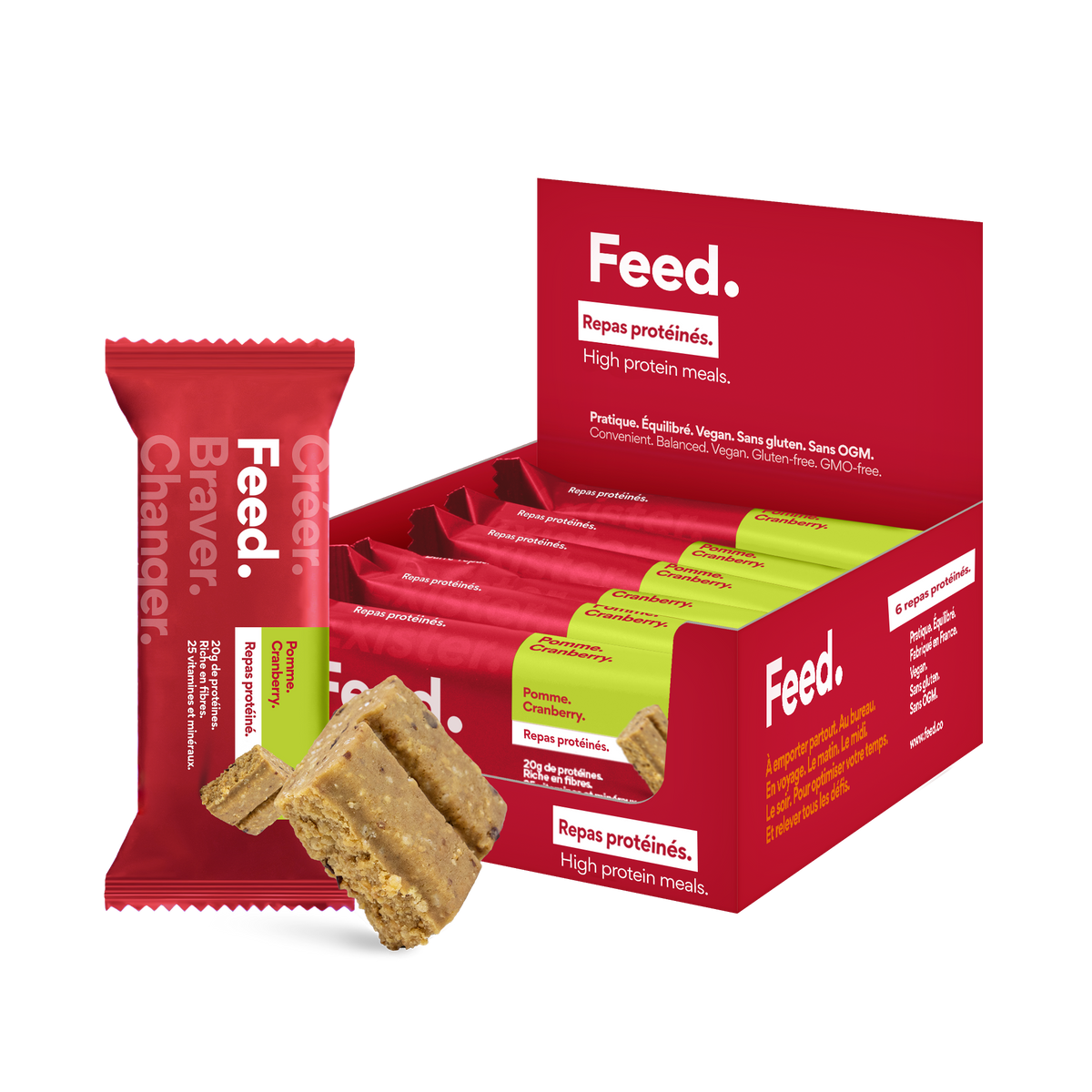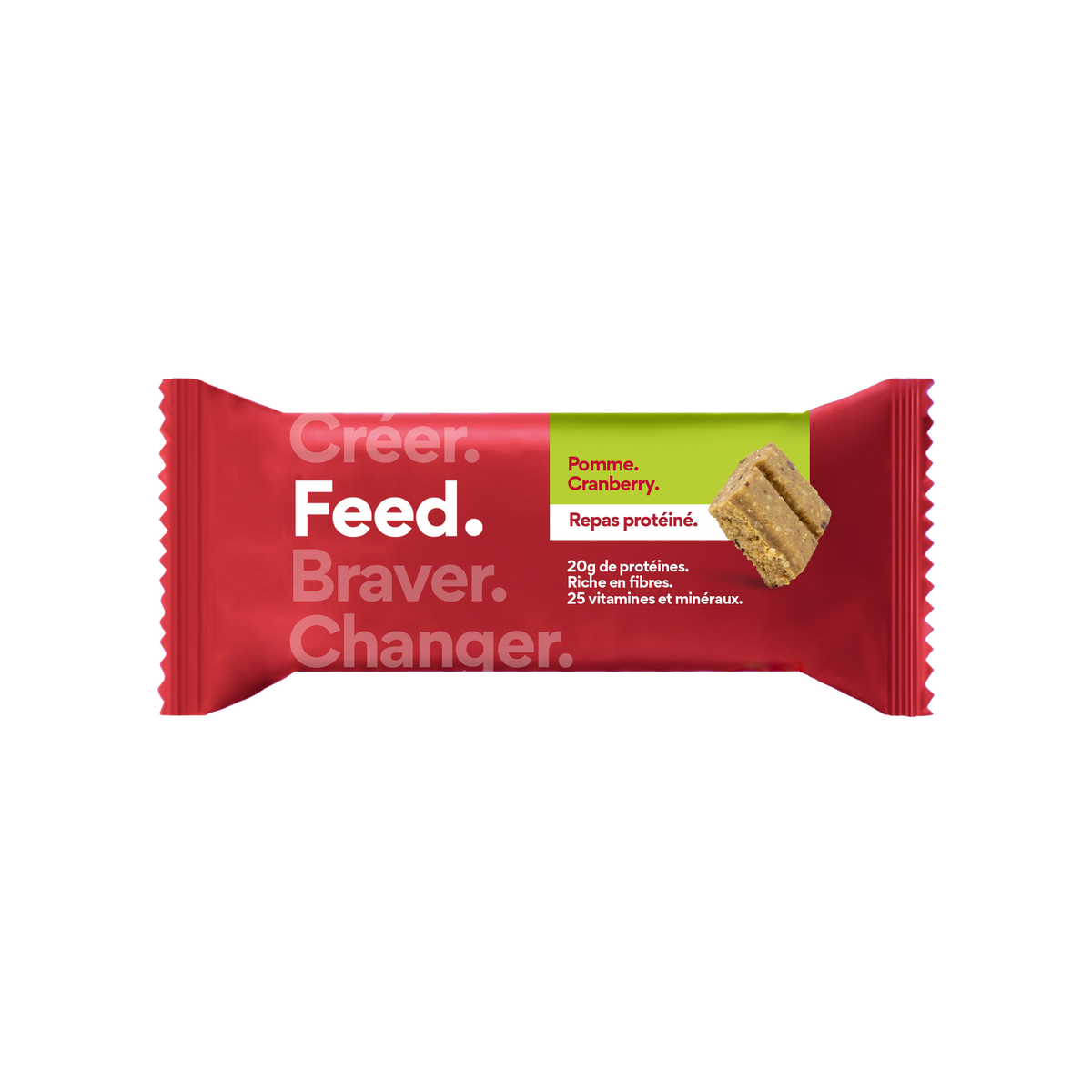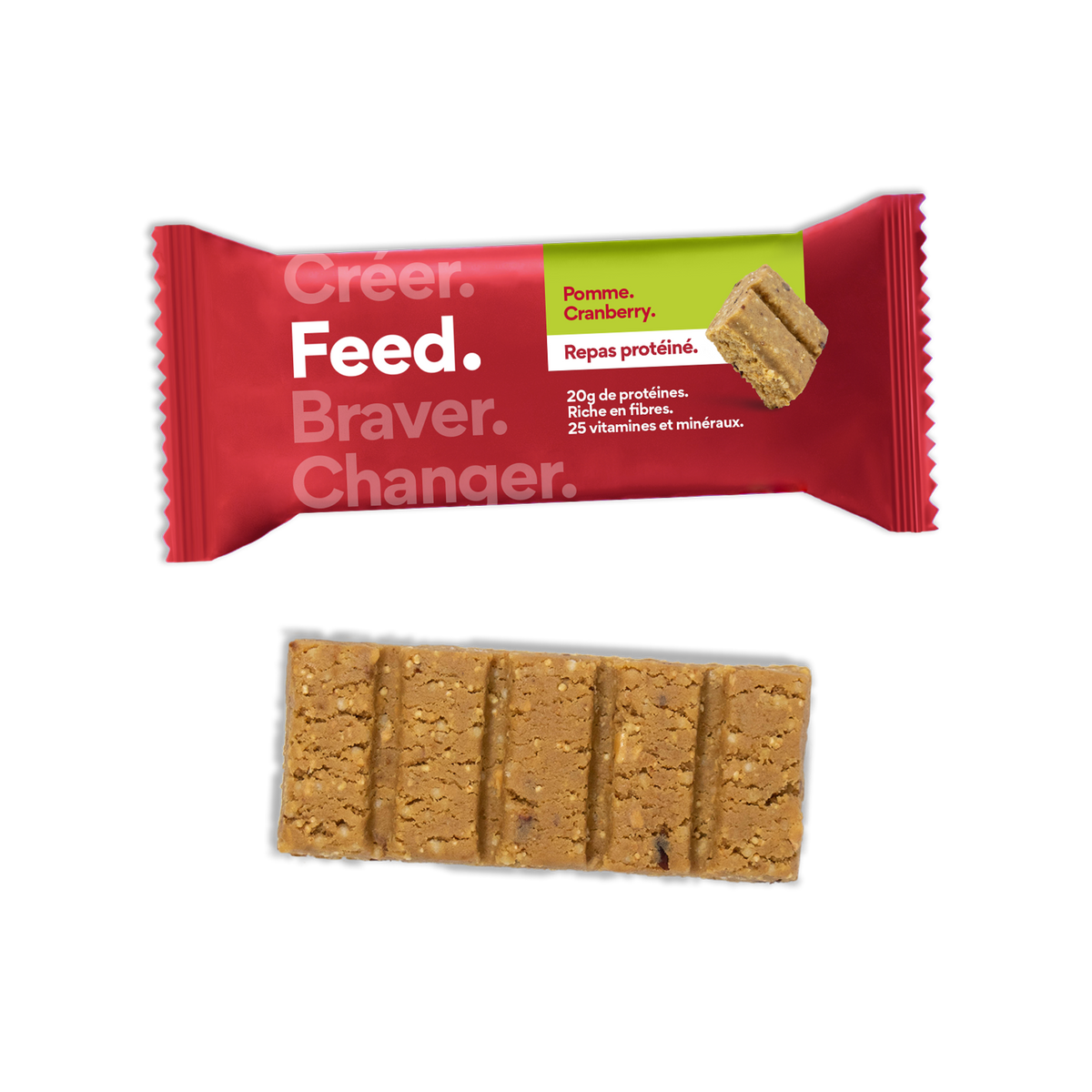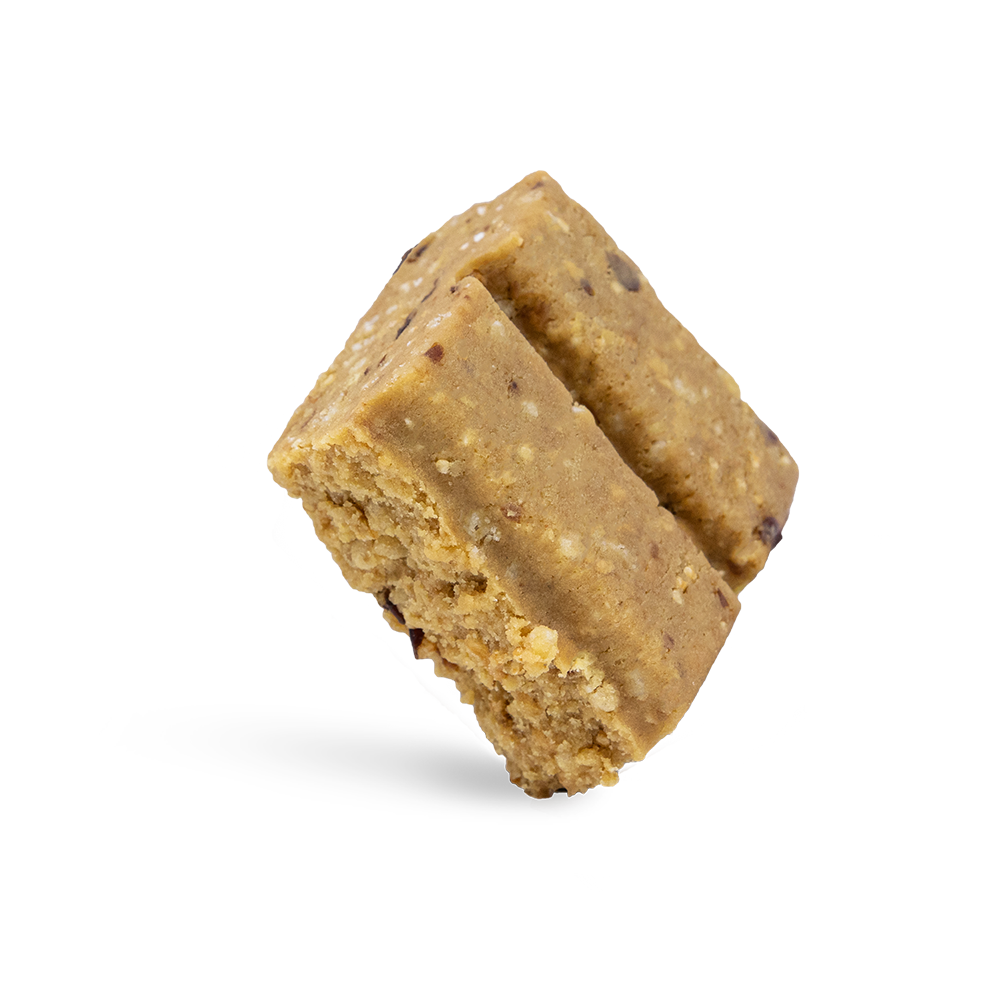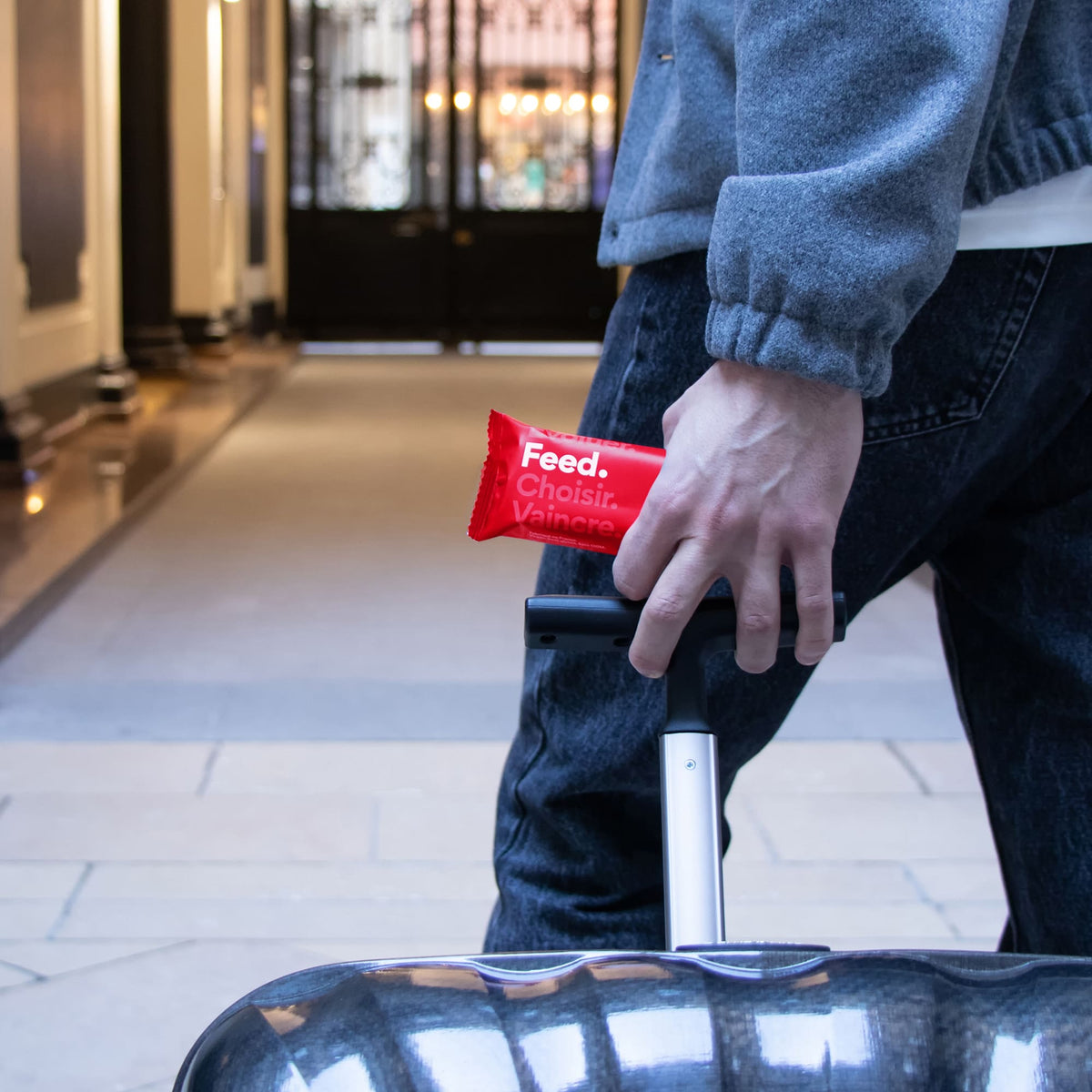 Feed. Original meal-bar - Sold by 6.
Apple. Cranberry.
Over 20g of protein and all the essential nutrients you need to replace a meal in this 100g bar, whether you are a sportsman or not. A delicious, moist, tangy and crunchy meal bar!
Anytime, anywhere, replace any meal with a meal bar Original to save time or improve your performance.
Nutrients.
Nutrients.
In each Feed. Original Apple. Cranberrry. meal-bar.
Rich in protein
More than 20 g of vegetable protein from peas, rice and soya for an optimal supply of amino acids.
CRISP AND MELTING
Delicately puffed and crispy protein billets in a soft apple and cranberry centre.
Gluten-free
We only use high quality ingredients, naturally gluten free and GMO free.
ALL ESSENTIAL NUTRIENTS
Low-glycemic carbohydrates, essential fatty acids, omega-3, everything the body needs.
370 kcal per meal
Each bar provides 370 kcal, ideal for a balanced meal or a sports and protein snack.
25 vitamins and minerals
Essential for the proper functioning of the body. More than 180 scientifically proven benefits for good health.
Quality ingredients.
Ingredients.
Peas, rice, agave, rape...
Each Feed. meal bar is made from ingredients carefully selected for their nutritional properties. They are all plant-based and naturally gluten and lactose free.

We add a unique blend of 25 vitamins, minerals and trace elements to give you just the right amount of vitamins C, A, E, D, B12, B9, iron, calcium, zinc and many more.

We also strive to keep our impact on the environment to a minimum by selecting 100% vegan ingredients with a long shelf life to avoid food waste. As for our packaging, it is recycled and recyclable.
See the ingredients
Read more.
Read more.
On the Protein Shot meal bar. Apple. Cranberry.
Protein Shot Meal Bars are balanced, protein-packed meals that are healthy, convenient and portable. Whether you are an active person in a hurry, an amateur sportsman or a competitor, they provide you with the proteins and all the essential nutrients to stay in shape, to accelerate muscle recovery or to perform well!

Replace any meal, at any time of the day, before or after sport.
To sum up
20 g of protein and all essential nutrients.

Perfect for sportsmen and women.

Ideal for staying in shape and recovering more easily.

Replaces any meal.
Preparation.
Open. Enjoy.
Storage.
Store in a cool, dry place.







Your questions.
Questions.
Our answers.
A meal bar contains all the micro and macro nutrients you need. Protein. Carbohydrates. Fat. Fiber. Vitamins & minerals. Designed by nutrition experts for a super convenient meal. To simplify your daily routine. And last until the next meal.
At work. On the go. On a hike. At home.
In the morning. Noon. Or evening. Whenever you need it.
When you want to save time. Optimize your day. Avoid skipping meals. It's up to you to adjust your consumption according to your needs and desires.
Following the success of the 100g format for the same recipes, we have decided to merge the Original and Sport bars. From now on, you can find your Sport recipes in a 100g format at a price of 21€ for 6 in this red packaging.
With over 23g of protein and all the essential nutrients you need to replace a mealThis bar is ideal whether you are a sportsman or not.
The expiration date for Original meal bars is 9 months from the date of manufacture. In general, you should not receive products with an expiration date of less than 3 months.
We recommend that you keep your meal bars Feed. in a dry place and away from light.
Soy, almonds and sulphites.
Pleasant
I like the taste and texture of these bars. They keep me full from breakfast to midday.
My favorite
I've tasted all the bars. This is simply my favorite!
Compact bar, practical for hiking, for example, or for setting off without worrying whether you'll find somewhere to eat.
Tastes just right. A little light on calories, but good to tide you over.
Excellent
This fragrance goes down really well. I don't get that quick nausea I used to get with chocolate-based ones.
The hollows in the bar to make it easier to take in small pieces are great.
I highly recommend it!
Apple. Cranberry. (PAV of Meal Bar / Original)
Apple-cranberry snack
Excellent taste, pleasant texture, easy digestion
A little too sweet, but with the lemon one, it's a nice change from chocolate-covered bars 👍
Excellent!
Incredible bar! The chocolate in other meal bars ended up disgusting me a bit and with these, I find it easy to eat them for lunch! Congratulations on your research!