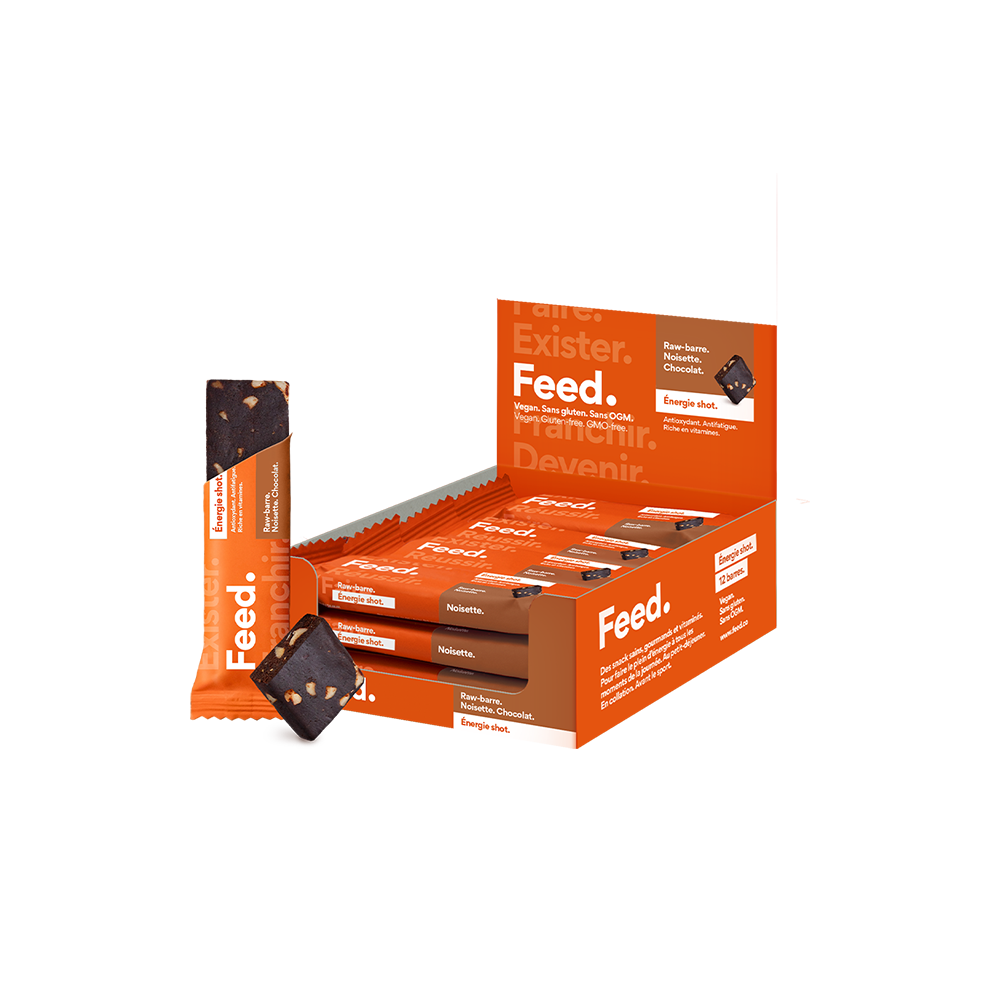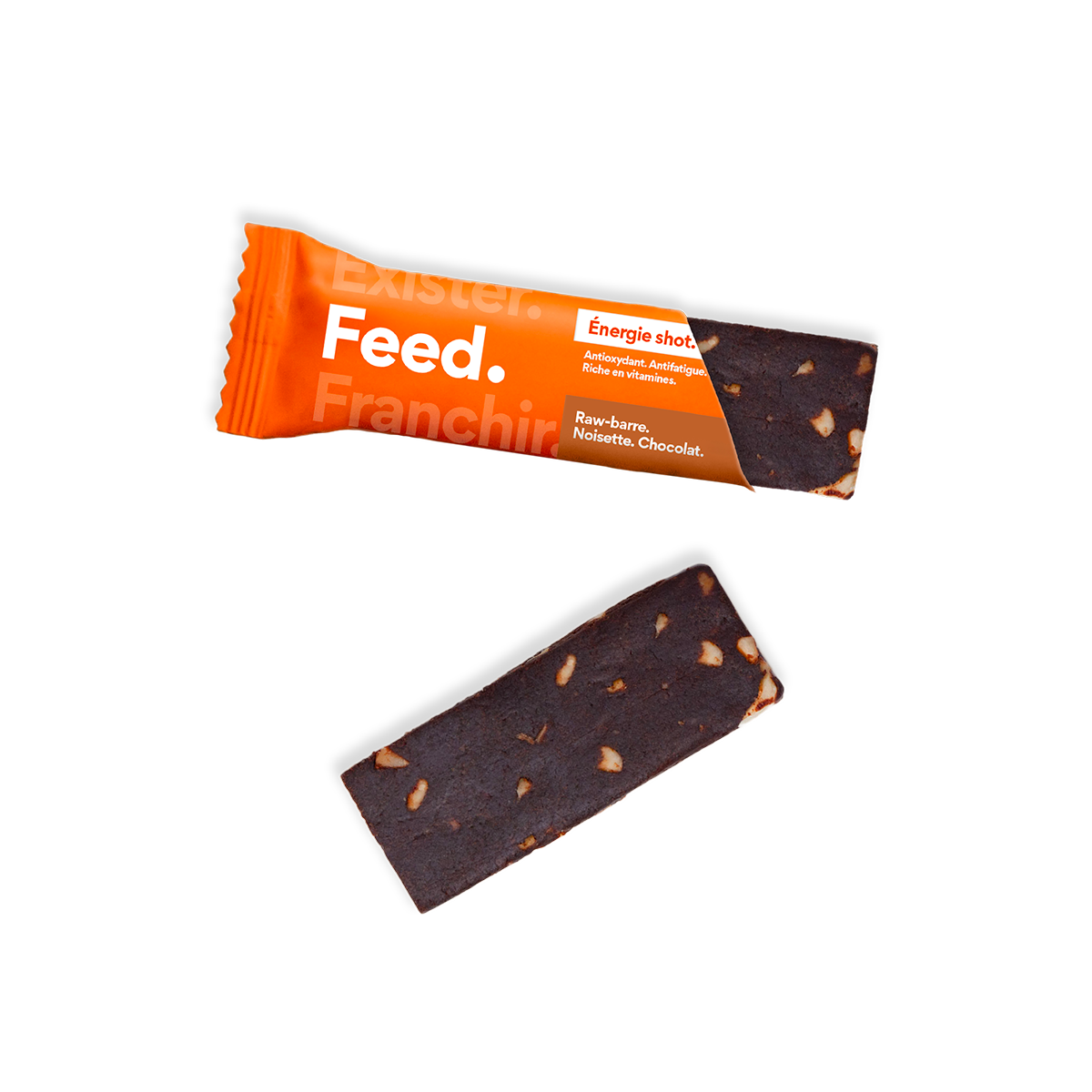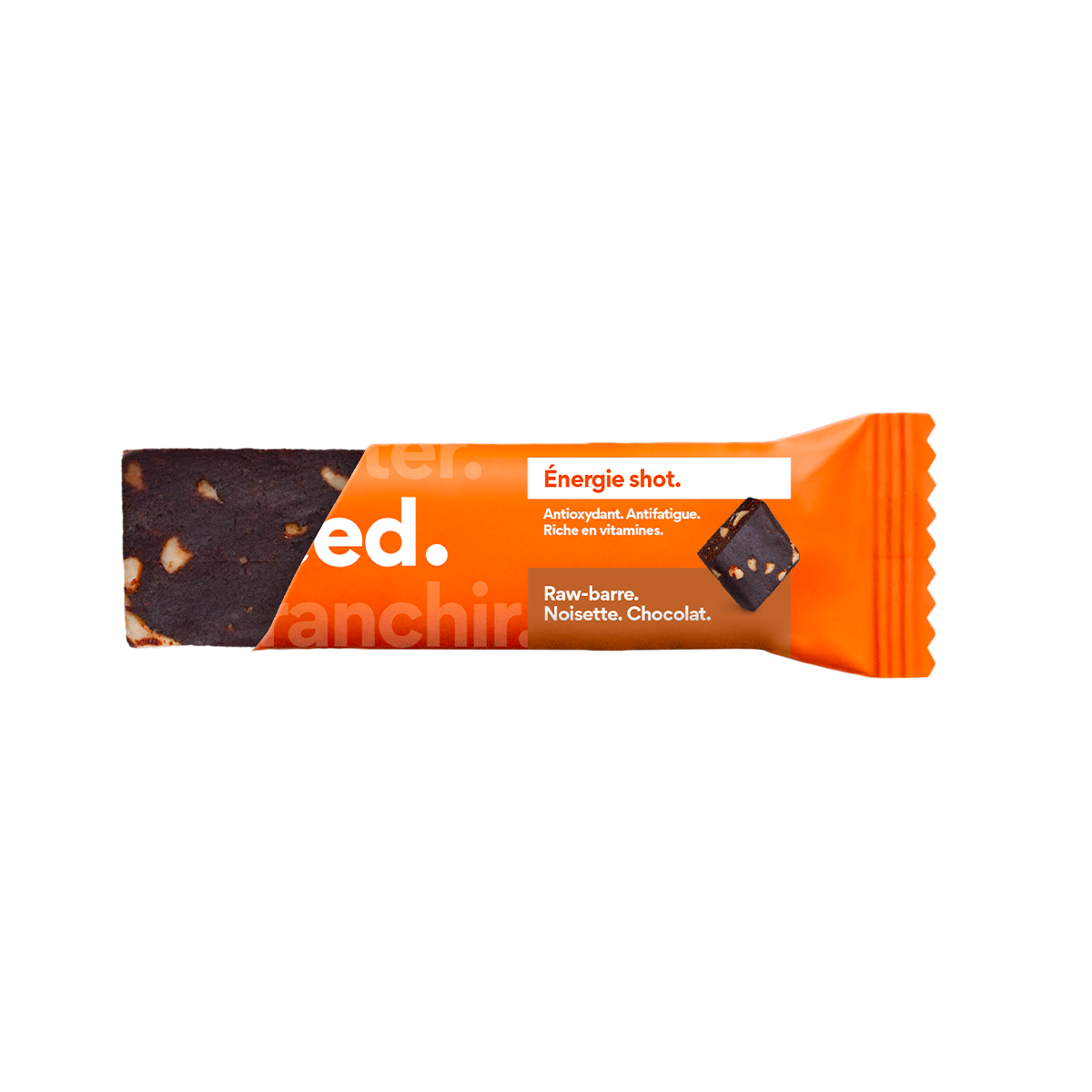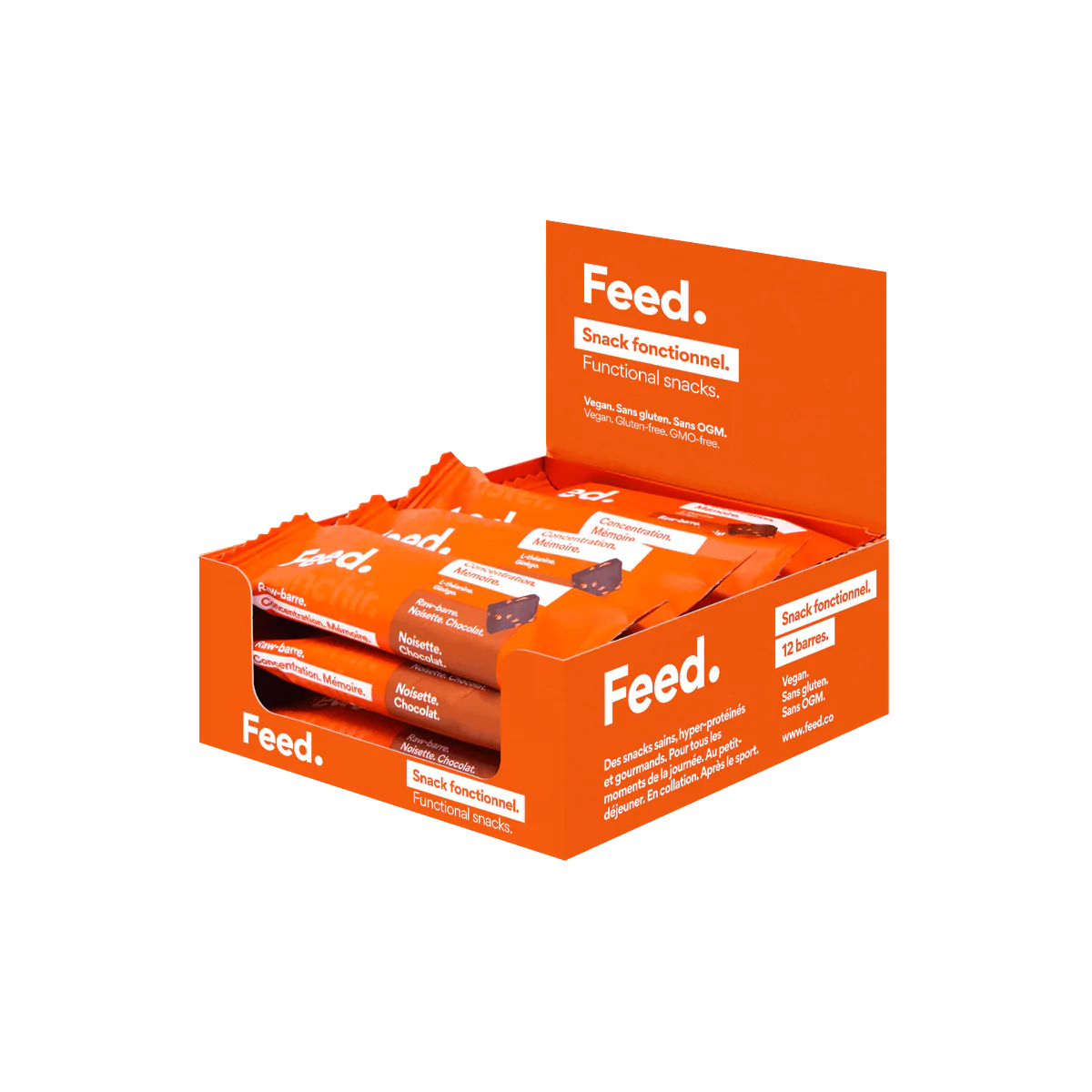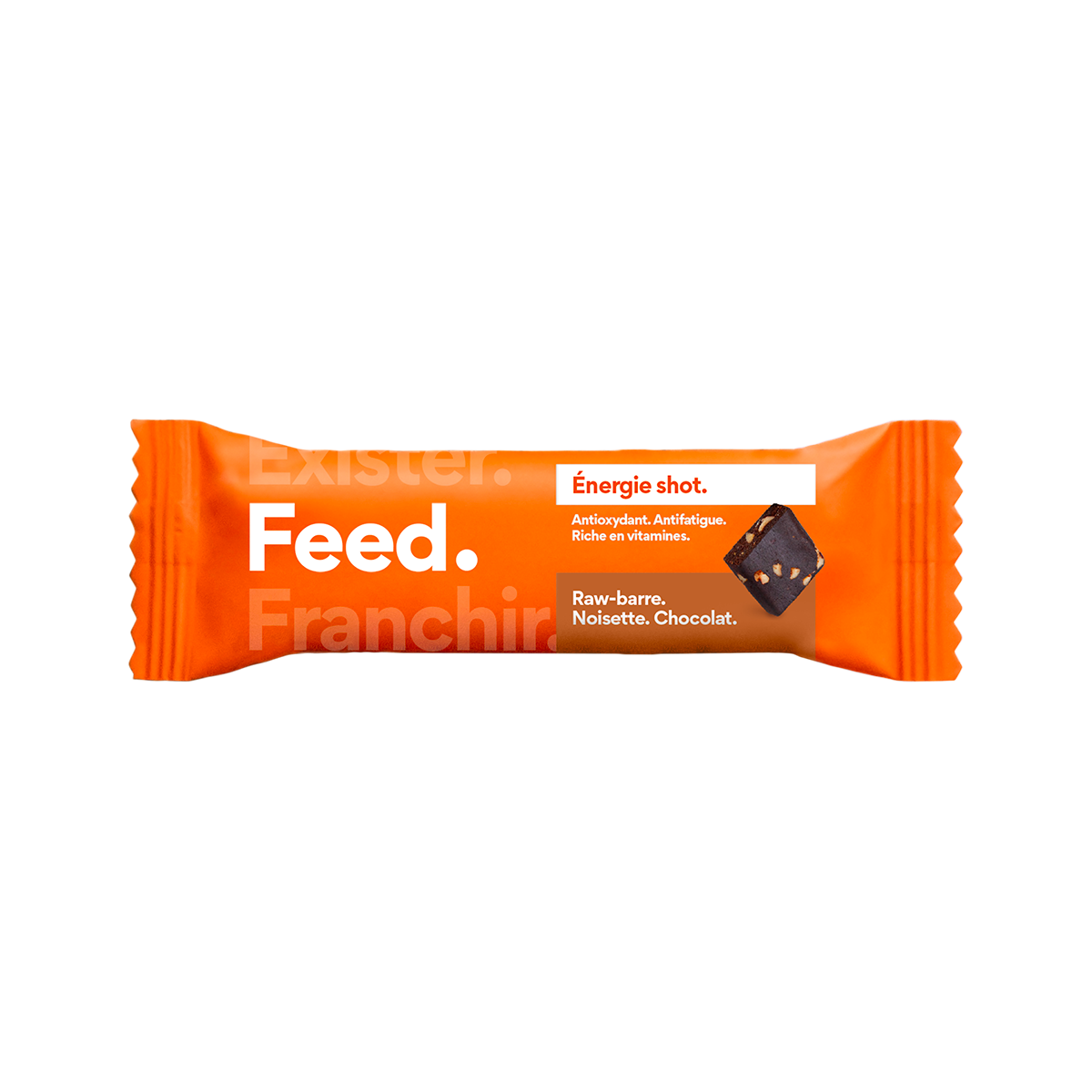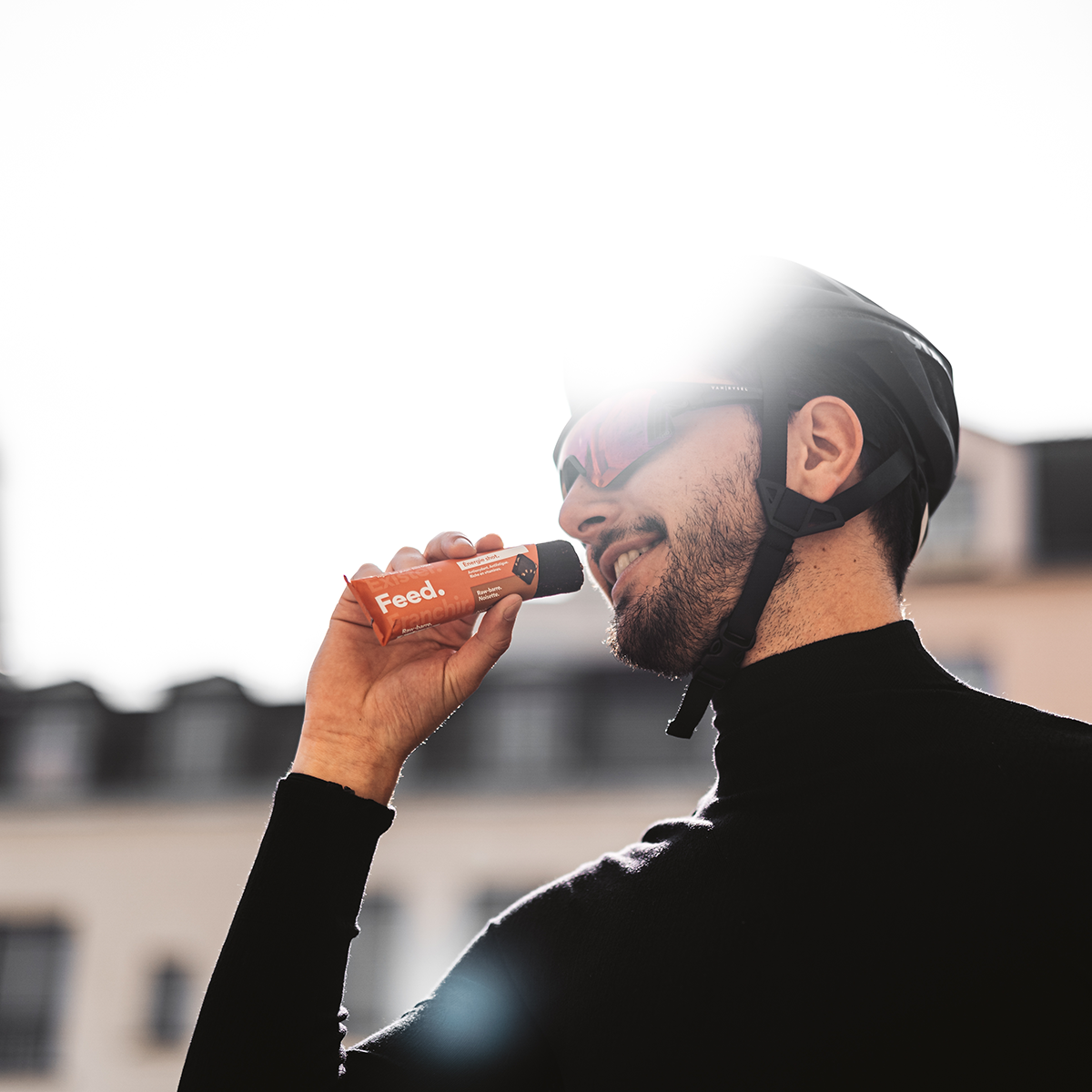 Raw-bar Concentration Memory Feed. Snack - Sold by 12.
Hazelnut.
A delicious 40g energy and multivitamin bar with pieces and hazelnut paste.
13 vitamins and minerals to regain your vitality or fight against temporary fatigue. Soft, crunchy and tasty, it is the ideal snack to fill up with vitamins and energy before/during sport but also at any time of the day.

Nutrients.
Nutrients.
In every delicious raw energy shot bar. Hazelnut.
A CONCENTRATE OF ENERGY
150kcal from the hazelnut and date paste, boosted by vitamins B3, B6 and B12 for an optimal energy metabolism.
ANTI-FATIGUE
Our 7 vitamins of the B group associated with iron and magnesium constitute a powerful anti-fatigue. The vitamin C, by improving the absorption of iron reinforces this effect.
ANTI-OXIDANT
Our duo of vitamins C & E and Zinc & selenium effectively protect your cells against oxidative stress related to exercise to allow you to train longer.
NATURAL ENERGY
Our bars contain only the sugars naturally present in the date. The energy is thus 100% natural and available.
20% PROTEIN
Protein intake is essential during exercise to slow down the breakdown of muscle fibers and facilitate recovery.
100% CRUE
Our bars are raw, which means that they have not been cooked in order to preserve all their nutritional properties.
Quality ingredients.
Ingredients.
Hazelnut, date, cocoa...
Each raw bar is made from ingredients carefully selected for their nutritional properties. They are all of plant origin and naturally gluten-free and lactose-free. Our ingredients are raw and not cooked. So all their nutritional properties are preserved.

We also strive to keep our impact on the environment to a minimum, selecting 100% vegan ingredients with long shelf lives to avoid food waste. As for our packaging, it is recycled and recyclable.
See the ingredients
Read more.
Read more.
On the raw bar Energy shot. Hazelnut.
Our raw bar Hazelnut. is the energy bar par excellence. Natural and without cooking, it is the perfect combination of a completely bioavailable energy source (date and peanut) and a vitamin mix specially selected to improve performance (optimized energy metabolism, reduced fatigue, protection against oxidative stress).
Before or during the sport but also at any time of the day, fill up with energy, vitamins and minerals. Find all the vitality you need and remain efficient and productive in all circumstances.
To sum up
Multivitamin: 13 vitamins and minerals

Anti-fatigue and Anti-oxidant

Before or during training

Fill up on energy and vitality
Preparation.
Open. Enjoy.
Storage.
Store snacks in a cool, dry place.







Your questions.
Your questions.
Our answers.
At work, during exams or stressful periods, regain your concentration and remain productive in all circumstances with this raw bar Concentration. Memory.
Feed. raw-bars are produced in 4 steps.

1. Mixing the ingredients.
The ingredients are mixed in a kneader (machine for kneading) to obtain a homogeneous dough. This process is carried out cold to keep all the functional properties of the ingredients and vitamins.
2. Rolling. The dough obtained is then rolled in a "rolling mill", always cold. It will pass between rollers that will flatten it, make it compact and uniform.
3. Cutting. Everything is then sent to be cut to obtain the characteristic rectangular shape of our raw-bars.
4. Packaging. The bars are finally wrapped and boxed. Ready to be tasted!
100% plant-based and raw to preserve the natural nutritional properties with a very short list of ingredients. Carefully selected to offer a tasty and functional snack.
The expiration date is of 12 months from the production date.
We recommend keeping your snacks in a cool, dry place.

Hazelnuts and soya.
May contain traces of other nuts.
a delight
I wanted to try out these little bars for my sluggish moments during the day, and I have to say they're delicious and keep me going for several hours. I totally recommend them!
Very good bar.
I like the taste and texture of this little bar. It's not too sweet. It's perfect for me when I'm doing sport or when I'm feeling sluggish at work.
Very satisfied
I wasn't familiar with Feed products, but I'm pleasantly surprised by the quality.
It's everything you'd expect in terms of composition and the pleasant taste is there, which is essential. I've been using the raw energy shot bars for road cycling and this product meets my expectations. In terms of price, compared with the competition, it's fair or even very good.
Great!
I eat one during the day when I'm tired at work, and frankly it gives me a boost and tastes great too!
Great bars!
These bars are very good, and provide an effective energy boost. I'm very happy with my purchase and will definitely buy more!
Excellent bars
These bars are excellent and have a great hazelnut taste. They don't leave you feeling sick, and they keep you going all morning. They also give a boost before sport.
New hazelnut energy bar: melt-in-your-mouth, tasty and easily digestible. Can be consumed during exercise without stopping.
At the top
Delicious even if the packaging seems too big, but it's enough for me personally!