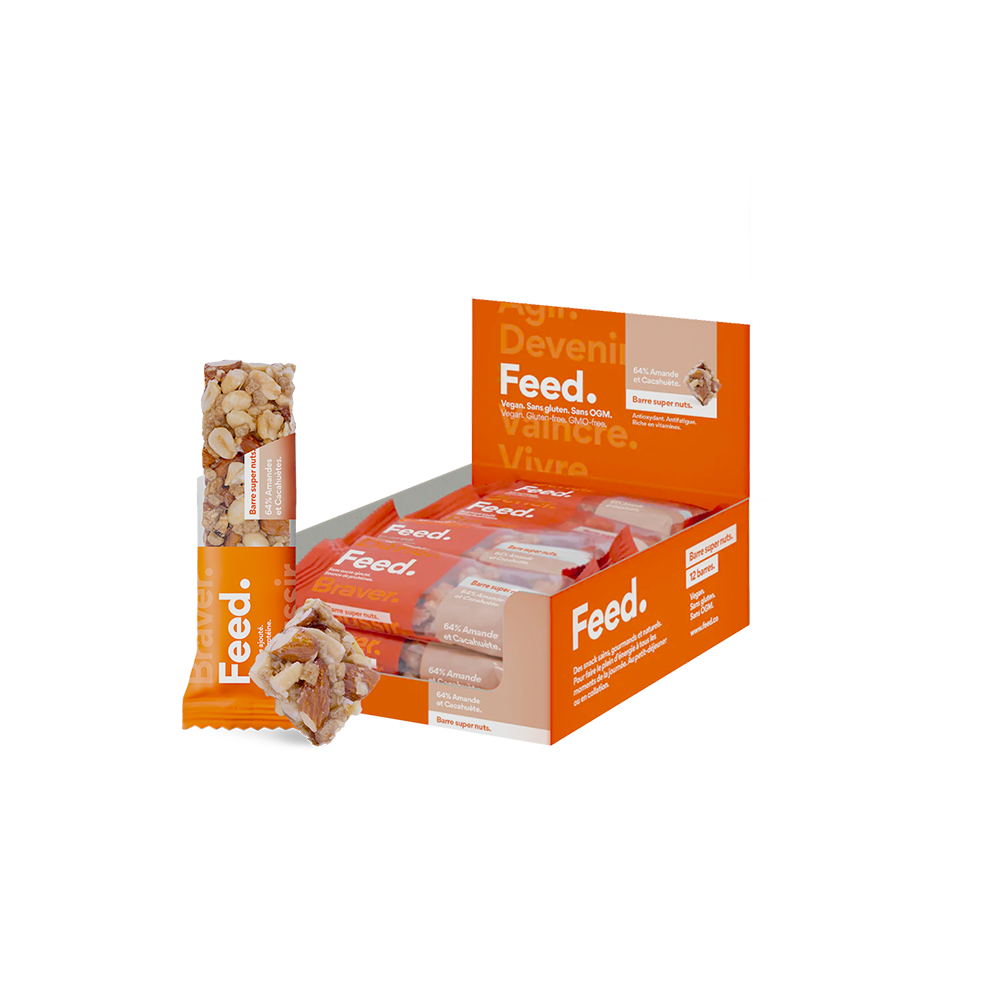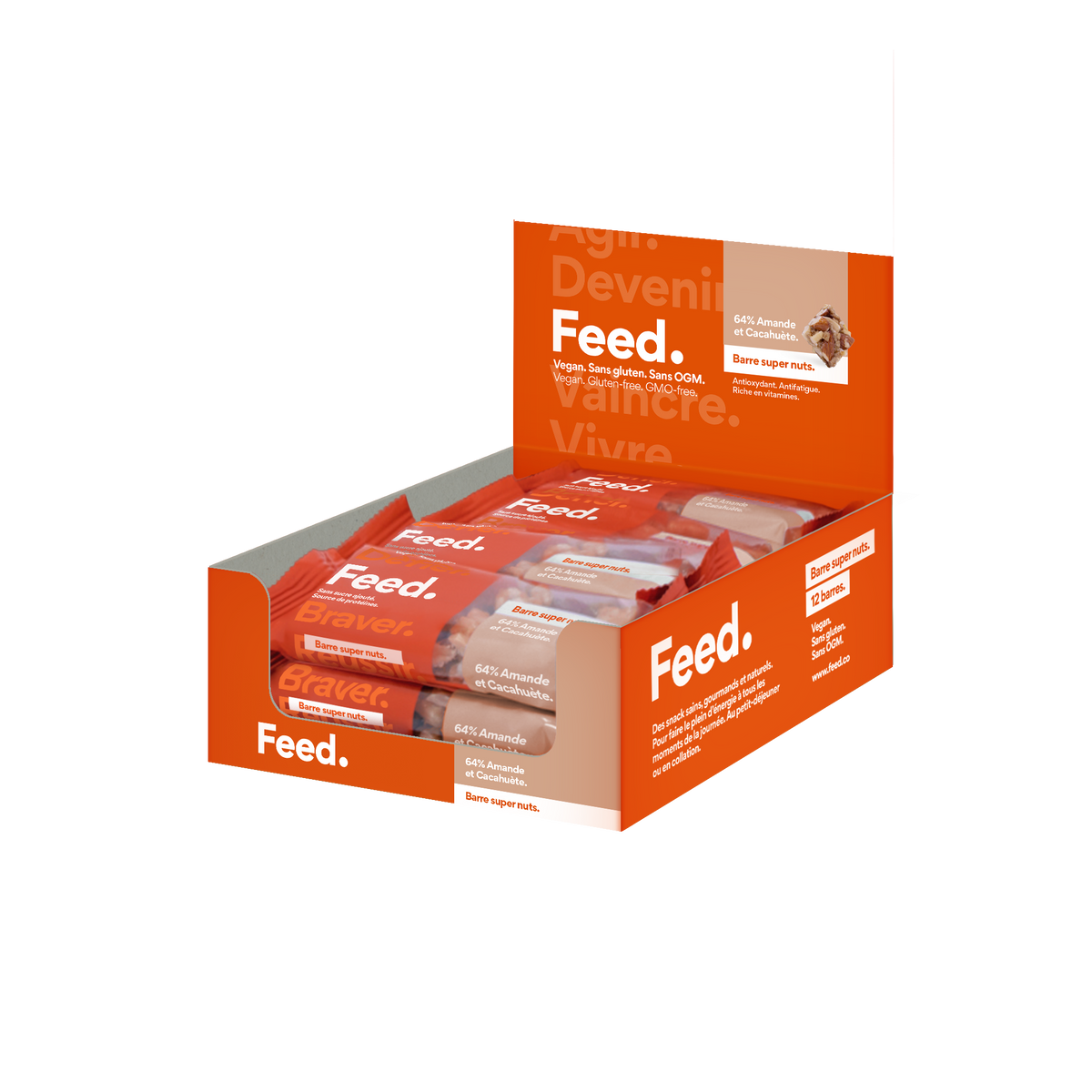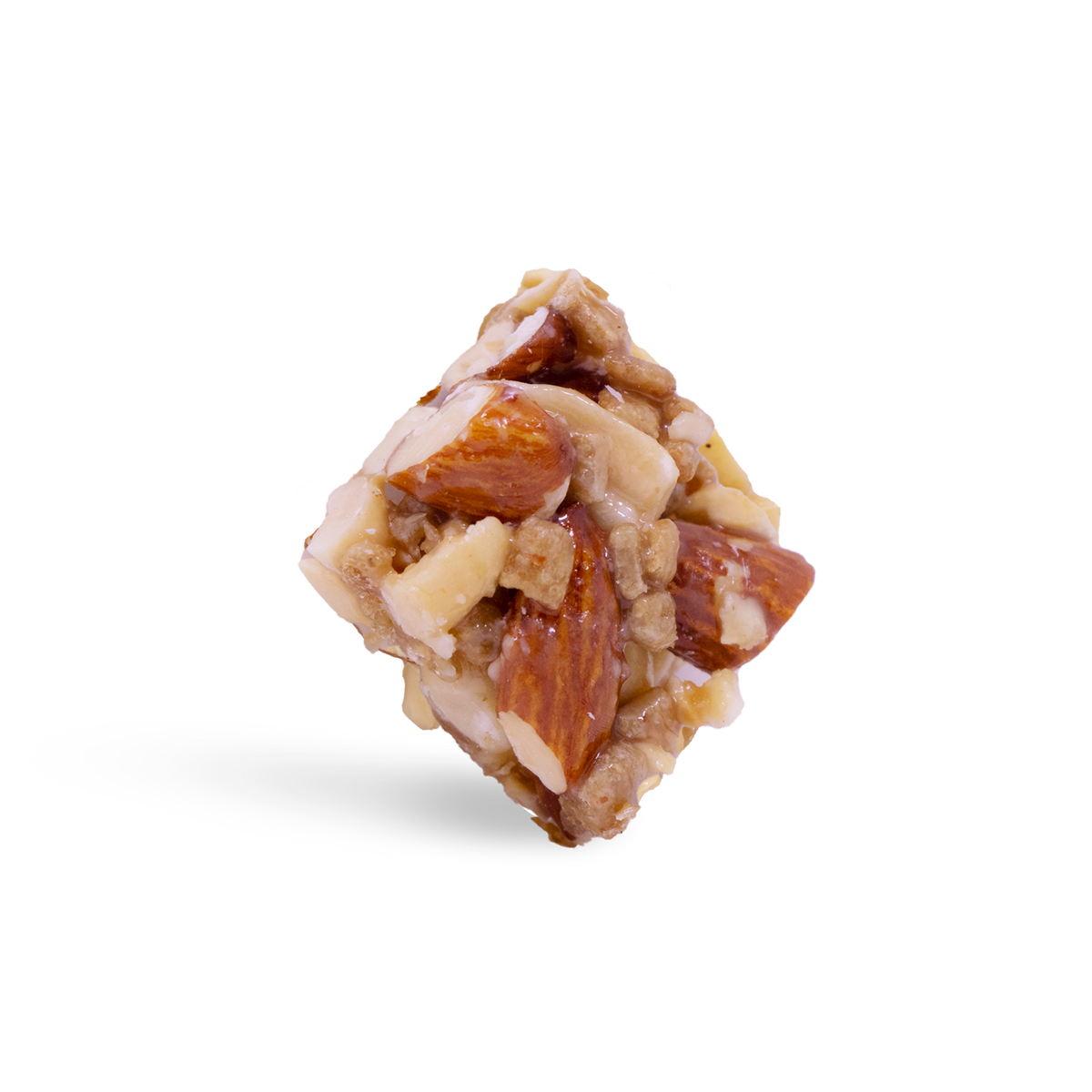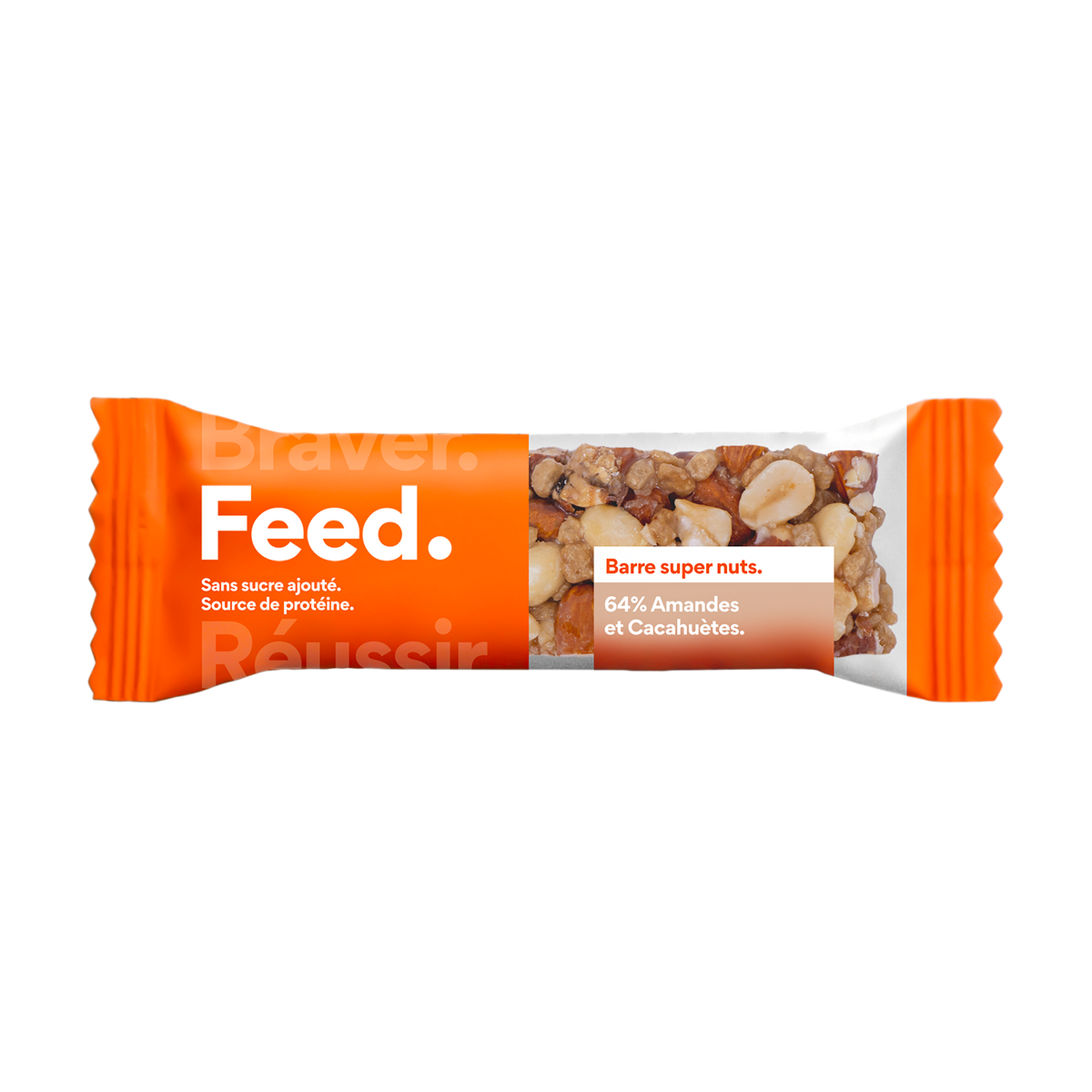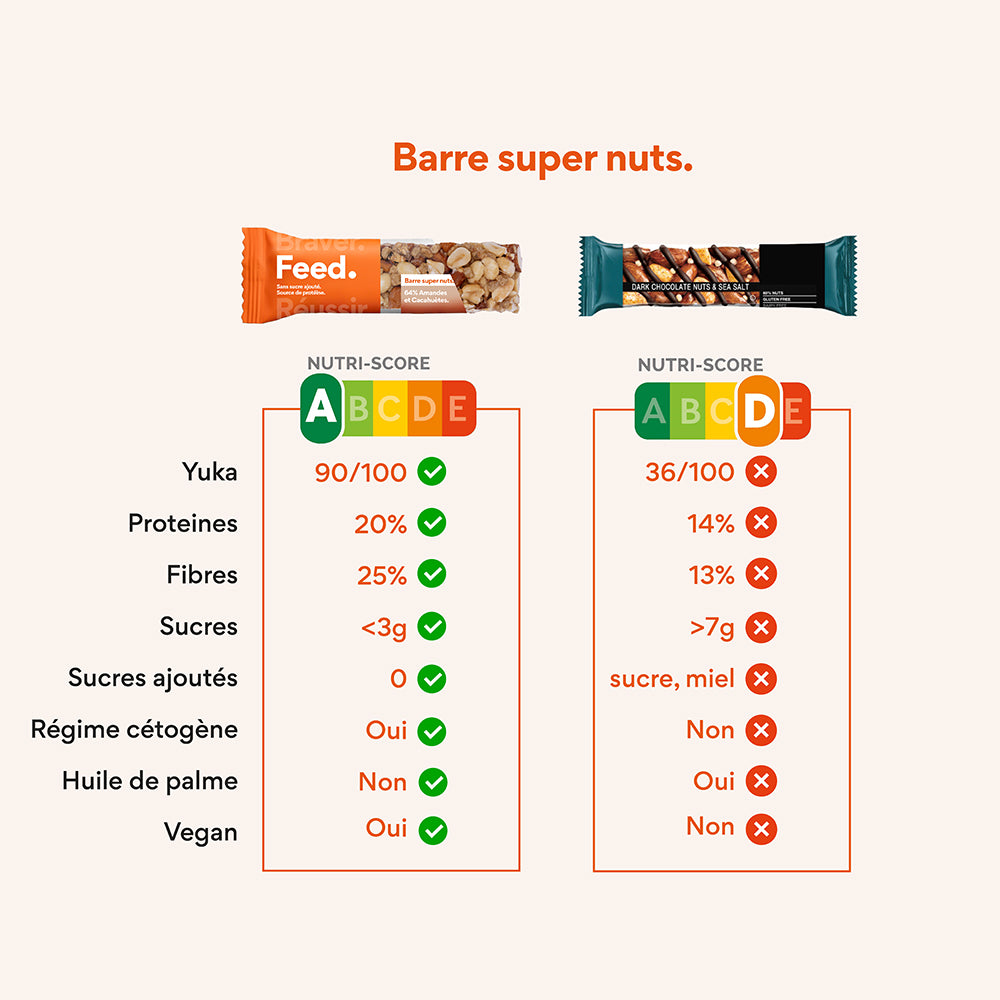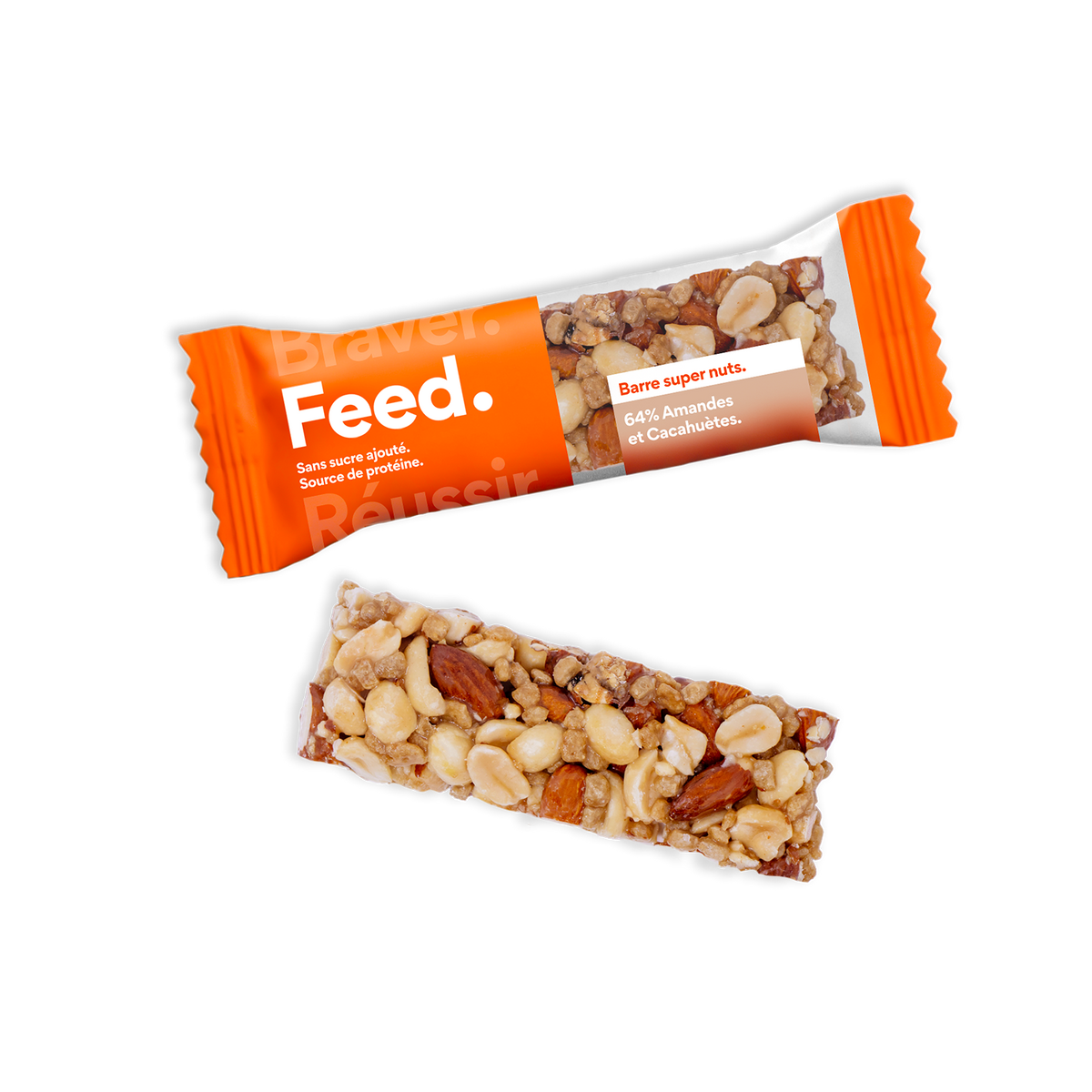 Nut bars Feed. Snack - Sold by 12.
Super nuts.
An ultra-gourmet bar of 40g with almonds and whole peanuts.
The first nut bar with no added sugar, Nutriscore A, rich in fiber and source of protein. A unique recipe, compatible with ketogenic/keto diets and that reveals the potential of almonds and peanuts.
Natural and crunchy, it is the ideal snack to fill all the small hungers and to fill up with omega3 and vitamin E present in great quantity in the nuts.

Nutrients.
Nutrients.
In every delicious Super Nuts bar. Almond. Peanut.
64% WHOLE FRUIT
An ultra-natural recipe based on whole nuts known for their richness in very good lipids and proteins.
20% PROTEIN
Almond, peanut, rice and sunflower: 4 sources of 100% vegetable and complementary proteins for an optimal and high quality amino acid supply.
NUTRISCORE A
Several months of research were required to develop this whole seed bar that combines the benefits of nuts with protein, all with no added sugar.
KETOGENIC / KETO
This no-sugar-added bar is rich in good lipids that protect the cardiovascular system and in proteins. Perfectly adapted to a ketogenic or keto diet.
RICH IN OMEGA3
Nuts are naturally rich in Omega-3. Lipids that are essential to the proper functioning of the cardiovascular system and that help to reduce the level of bad cholesterol.
NO SUGAR ADDED
0: this is the amount of sugar we add to our Super Nuts bars. The tiny amount of sugar in this bar (less than 3g) corresponds to the sugars naturally present in almonds and peanuts.
Quality ingredients.
Ingredients.
Almond, peanut, rice, sunflower...
Each Super Nuts. bar is made from ingredients carefully selected for their nutritional properties. They are all of plant origin and naturally gluten and lactose free. With over 64% whole seeds, all nutritional properties are preserved. We also strive to keep our impact on the environment to a minimum by selecting 100% vegan ingredients with a long shelf life to avoid food waste.
See the ingredients
Read more.
Read more.
On the bar Super. Nuts. Almond. Peanut.
Our Super Nuts. bar is a natural and ultra-healthy bar for any time of the day. It features all the benefits of almonds and peanuts with no added sugar. It is low in carbohydrates for optimal blood sugar control. It is the ideal bar within the framework of a ketogenic/keto diet or in period of dryness. It can be used at any time of the day, at breakfast, as a snack, during a hike, after sport...
To sum up
64% almonds and peanuts

Perfect for a ketogenic diet

No sugar added

Rich in proteins and Omega 3
Preparation.
Open. Enjoy.
Storage.
Store snacks in a cool, dry place.







Your questions.
Questions.
Our answers.
Absolutely! Little transformed, this bar is the perfect ketogenic snack thanks to its richness in good lipid (omega 3), and proteins. The carbohydrate intake has been minimized in order to obtain an adequate profile, based on a recipe of nuts and fruits. It can accompany you in your ketogenic diet.
Yes, in the context of your low-calorie diet, it could be your little snack or the equivalent of a handful of dried fruit. The bar is rich in fiber, a source of protein and is not very processed: perfect for long-lasting satiety!
Be careful to control your caloric intake during the day: the bar has an energy intake of about 200kcal.
First, the nuts and protein crisps are mixed with a binder. Then, the whole thing is laminated, that is to say spread under rollers to have a homogeneous plate in height. It will then be cut into small bars of 40g to be finally packaged!
For breakfast, before a sports session or to fight against temporary fatigue. At any time of the day, when you need a little boost!
The expiration date is 12 months from the date of manufacture. You should not receive any products under 3 months of expiration date at the date of reception of your products. We advise you to keep your snacks in a cool and dry place.
Yes, it contains peanuts and almonds and may contain traces of sesame and other nuts.
Great taste and delicious
This bar is very tasty and crisp to perfection. It looks like crunchy nougat.
Delicious and filling
Snack good and practical. Ideal before sport or when the going gets tough.
The healthiest
Tasty, good, pleasant, ideal for eating something simple and effective. The price is a bit high, but it's better than what we're used to.
Excellent snack i recommend 🤩
Good evening. I have never been disappointed with your products, which also suit me perfectly.
Thank you 💪😉