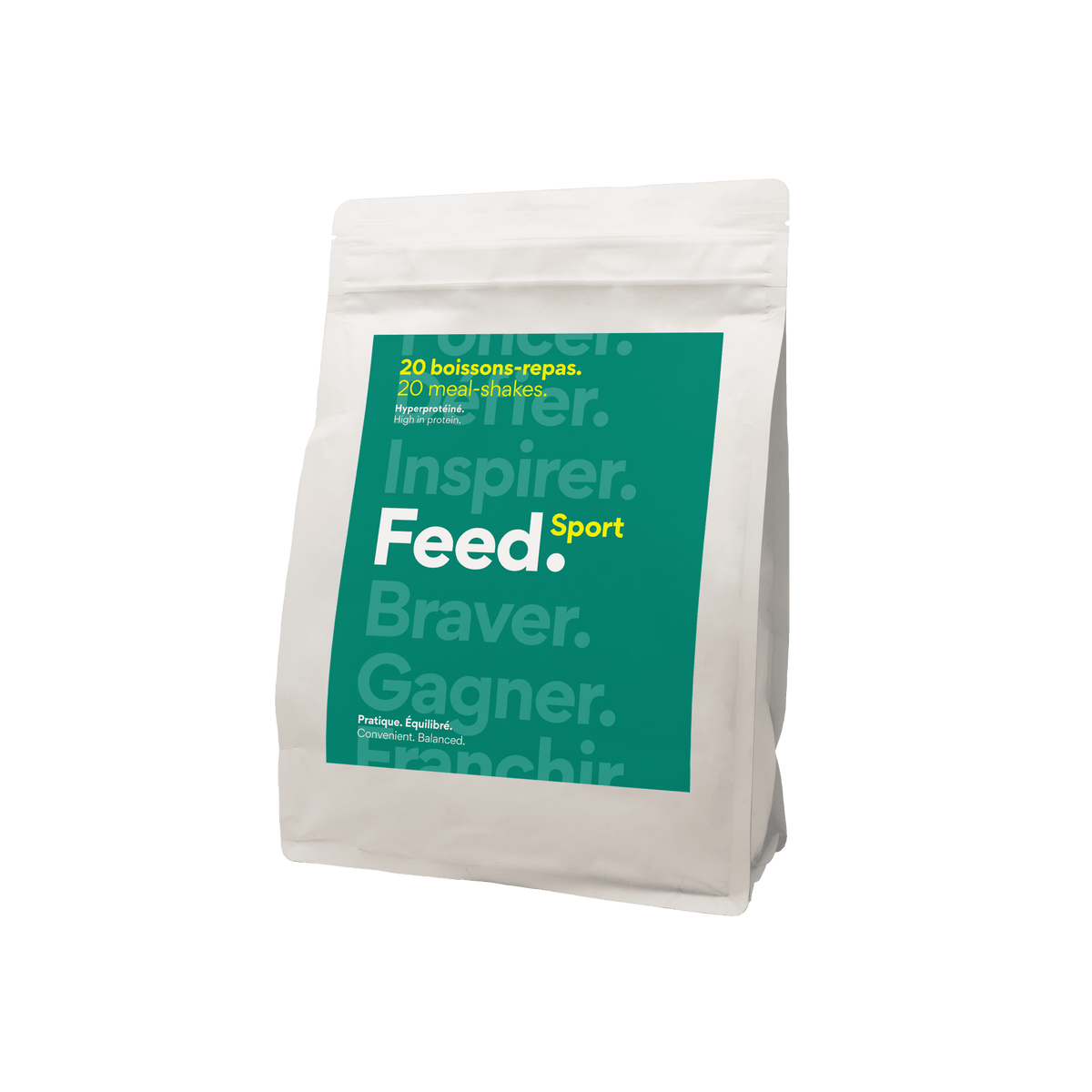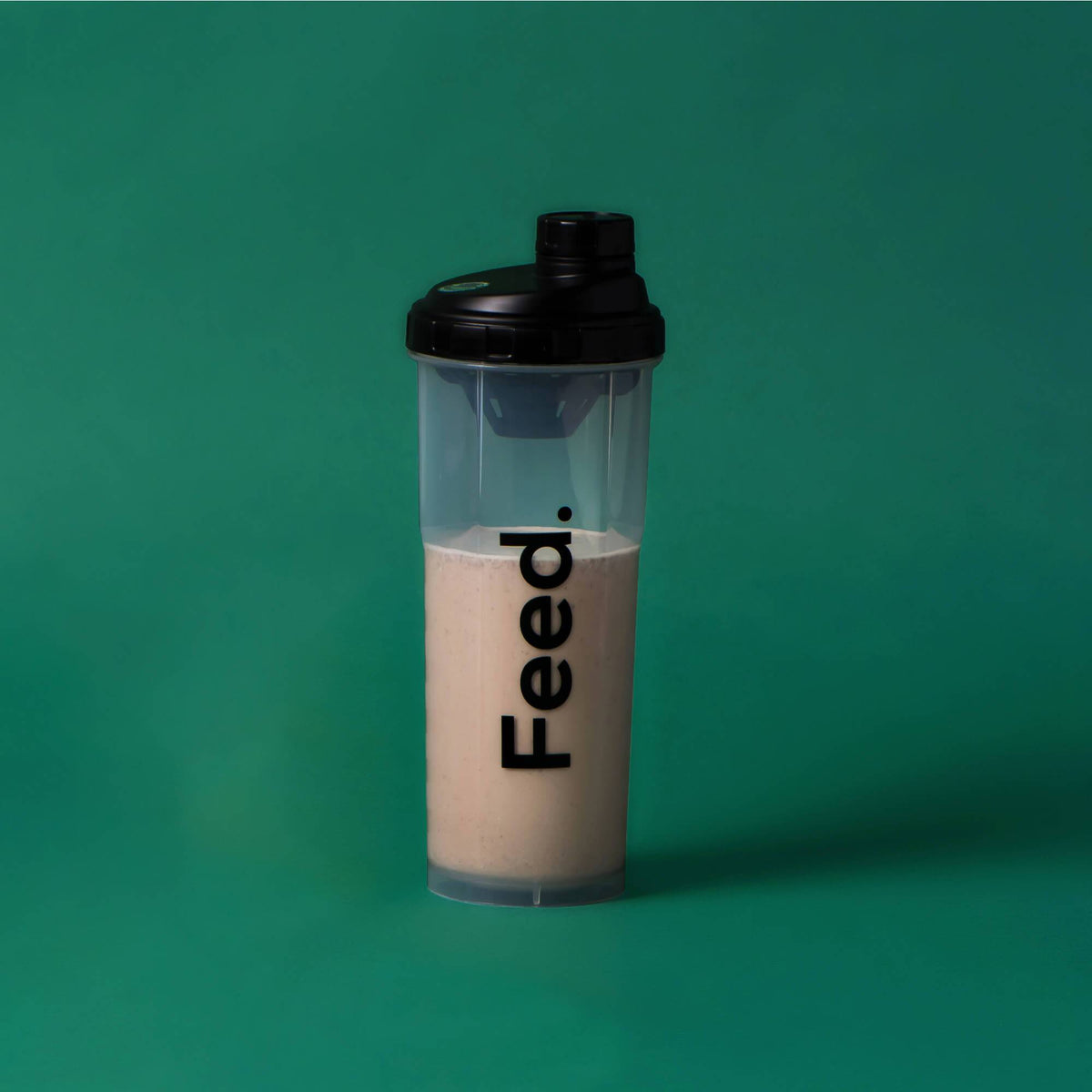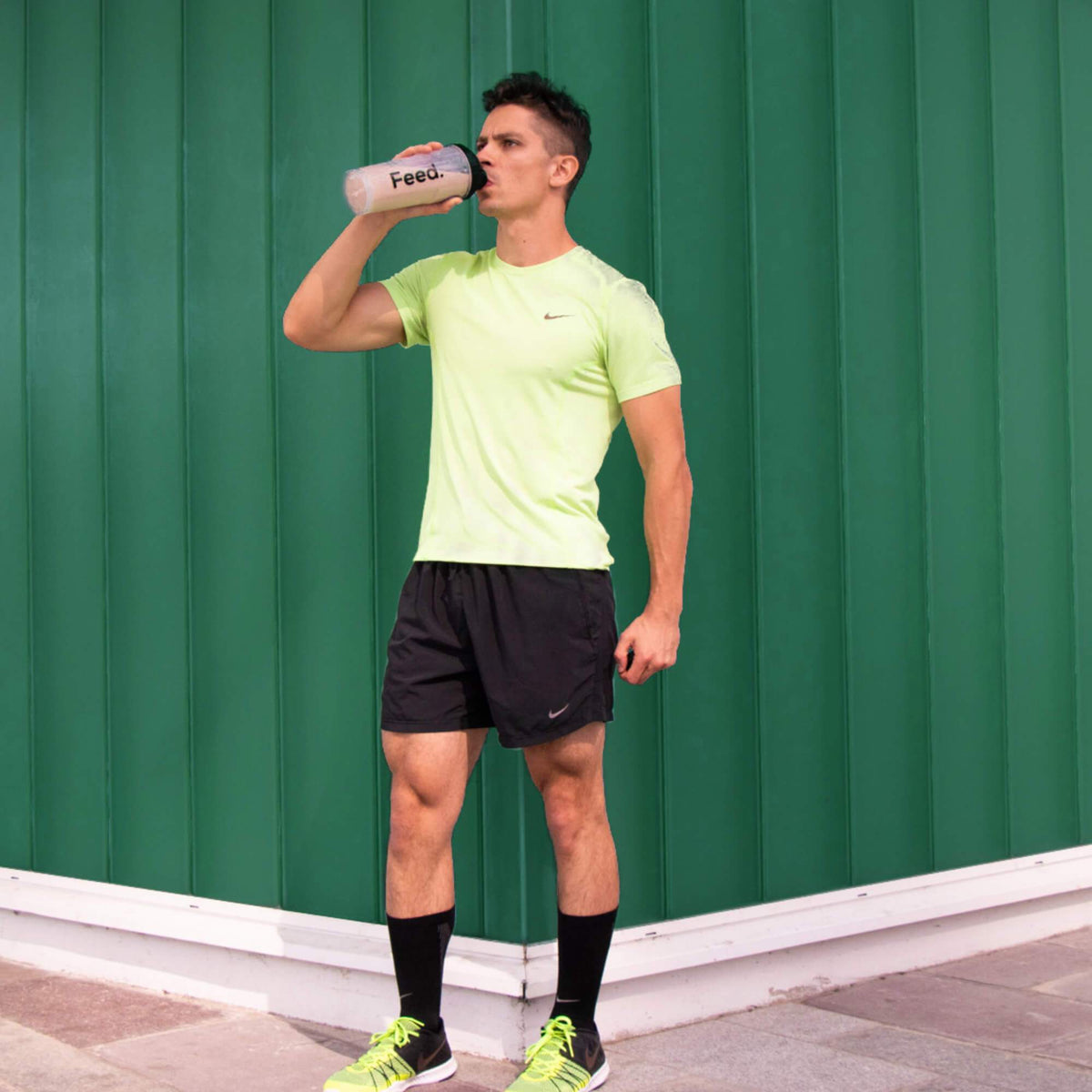 Feed. Sport meal-drink
Chocolate. Hazelnut.
A delicious, creamy, high-protein drink (37g) to replace a meal as part of a sports diet. Rich in fibre and with no added sugar, it guarantees rapid and lasting satiety. With Feed. Sport , fill up on essential nutrients for optimal muscle building. Reach your goals, improve your performance and speed up your recovery by replacing any meal with a Feed. Sport shaker ready in less than 30 seconds.
Bag of 20 meals of 2.5kg.
Use your meal-drink with :
Shaker 1L
Solid and long lasting.
Nutrients.
Nutrients.
In each Feed. Sport Chocolate. Hazelnuts. meal-drink.
High in protein
37 g of protein from peas, oats and sunflowers. A trio with optimal amino acid intake to promote muscle building and recovery.
The Power of Cocoa
It is very rich in natural antioxidant, magnesium and vitamin E to fight against aging and fatigue.
Vegan & gluten free
We only use high quality, plant-based ingredients that are naturally gluten-free and GMO-free.
No added sugar
Contains only the sugars naturally present in chocolate. Less than 5 g per meal.
500 kcal per meal
Each meal drink provides 500 kcal, ideal for a healthy, balanced meal ready in less than 30 seconds.
26 vitamins and minerals
Essential for the proper functioning of the body. More than 180 scientifically proven benefits for good health.
Quality ingredients.
Ingredients.
Peas, flax, rice, oats...
Each Feed. Sport meal drink is made from ingredients carefully selected for their nutritional properties. They are all plant-based and naturally gluten and lactose free.

We add a unique blend of 26 vitamins, minerals and trace elements to give you just the right amount of vitamins C, A, E, D, B12, B9, iron, calcium, zinc and many more.

We also strive to keep our impact on the environment to a minimum by selecting 100% vegan ingredients with a long shelf life to avoid food waste. As for our packaging, it is recycled and recyclable.
See the ingredients
Read more.
Read more.
On the meal drink Sport Chocolate. Hazelnut.
The meal drinks Sport are high-protein meals with no added sugar, intended for beginners or experienced athletes. Whatever your level, nutrition is the key to success in sports performance, muscle building and recovery.

Healthy, convenient and 100% plant-based, they provide you with all the essential nutrients wherever you are. Thanks to the 2.5kg bag, you can adapt the portions according to your needs or desires. Our meal drink can be taken before or after your session.
To sum up
37 g of vegetable protein.

Improve your performance and recovery.

Bulk up.

Ideal for athletes of all levels.
Preparation.
Pour 500 ml of water into the shaker.
Add 3 scoops (125g) of Feed. Sport powder.
Shake! Drink up!
Storage.
Store the sachets in a cool, dry place.







Your questions.
Your questions.
Our answers.
Today, producing 1 kg of plant proteins requires up to 6x less water than producing 1 kg of animal proteins. So they're much better for the planet. The variety and complementarity of plant sources (oats, peas, rice) in our Sport recipes guarantee an optimal essential amino acid profile! 
At the hall. In the office. On the road. At home.
Morning. Lunchtime. In the evening. Or as a snack.
Our meal drink can be taken before or after your session. To make the most of the nutritional benefits of your meal.
On non-training days. To maintain a sufficient protein intake to combat muscle wasting.
In short, whenever you need it. It's up to you to adjust your intake according to your needs and desires.
Preparation.
First pour 500 ml of water into the shaker. Add 3 scoops (125g) of Feed. Sport powder. Shake well! Enjoy!

Water, milk, plant milk.
We recommend mixing with water, but you can also use milk or plant milk without any problem (although this will alter the nutritional value of your meal-drink).

Temperature.
We recommend preparing your shaker with water at room temperature. Heat can damage the vitamins and minerals in our recipes, which are sensitive to heat.
Yes, you can eat them every day to build muscle mass. However, for a balanced diet, you need to remember to eat a variety of foods!

No contraindications except in the following cases:
Children and adolescents. Their nutritional requirements differ from those of adults.
Pregnant women. Caution with vitamin A and soy. Please ask your doctor.
Special diets. Ketogenic or low in FODMAPS or certain vitamins & minerals.
In case of renal insufficiency.
The expiry date for mealtime drinks Sport is 12 months from the date of manufacture. In general, you should not receive products with an expiration date of less than 3 months.
We recommend that you keep your packets in a cool, dry place.
None of our powders contain allergens. This is the result of relentless R&D and a rigorous selection of quality ingredients.
Top, contitnué, c'est de la bombe! Fabrice
As promised
Used on my lunch breaks after my sports sessions, top!
Chocolate. Hazelnut. (Bag 20 meals / Sport)
Good quality product
The list of ingredients specifies the content, and it seems healthy. I have been using it for several years as a meal replacement or after a sport effort, it fills the hunger well, even if the effect seems less long than a classic meal because the discgestion is facilitated by the liquid state. Price very correct onotut in subscription which allows to have the delivery offered by receiving the sachets by two.
Very good
The product is very good!
We even have the sensation to have small pieces of hazelnuts by moment
Very strong in hazelnut, much less in chocolate (that we practically do not feel)
I highly recommend
Too good!
With the small pieces of hazelnut, it is top! Not too chocolatey, personally I prefer, otherwise it becomes quickly sickening. But this is perfect. It's quick to prepare and drink in the morning and it's a great break! I approve! 👌🏼
Meals
The taste of hazelnut is too present. It misses a greedy side which one finds in the bars.
Compliant
Order conformed and shipped very quickly. When I read the comments I was a bit afraid of the 'too strong nutty taste' according to some, but I tried it anyway. Everyone has different tastes and perceptions. As far as I'm concerned the taste is perfect, not sickening at all, I can smell the chocolate too. As usual, the powder dilutes well and it fulfills its promises.