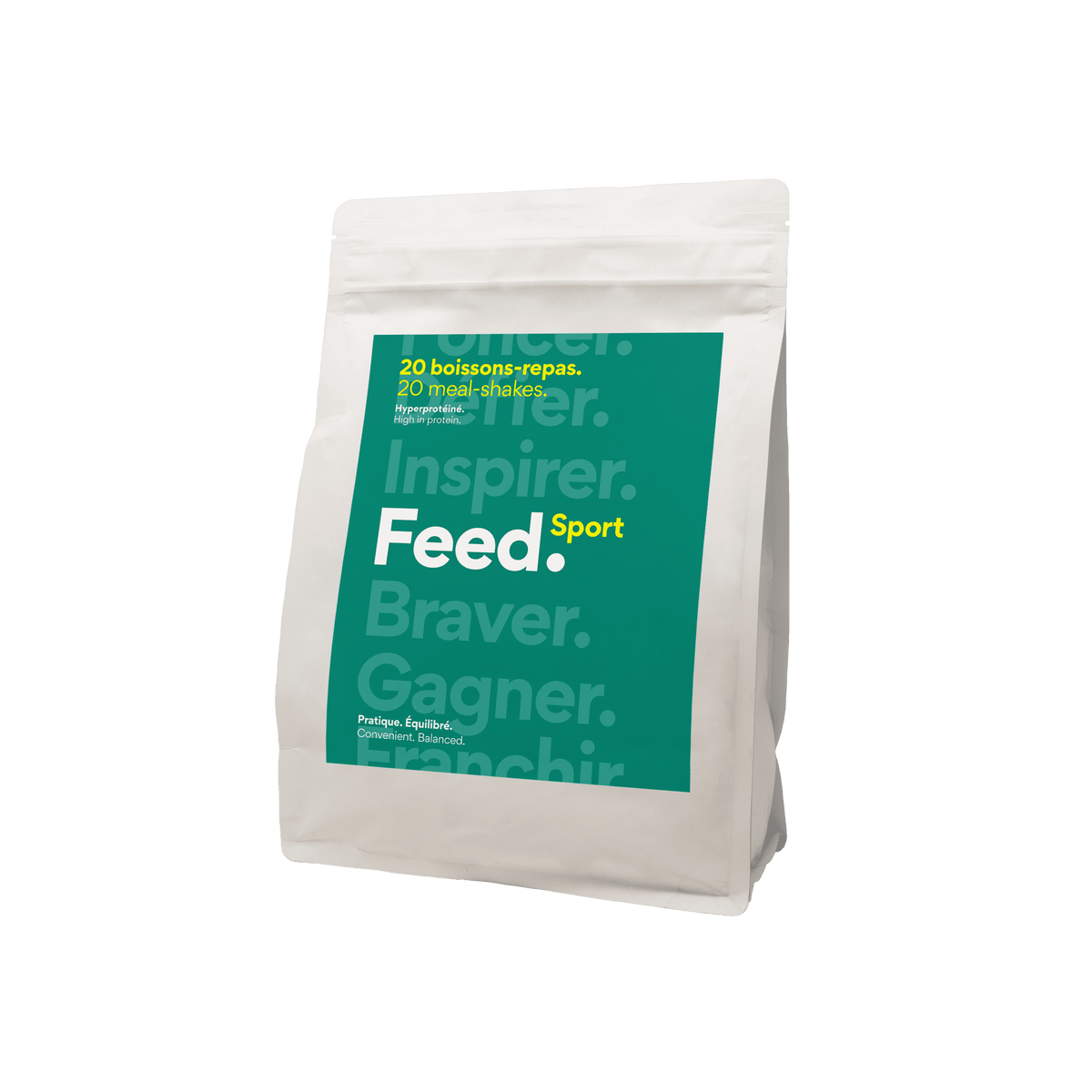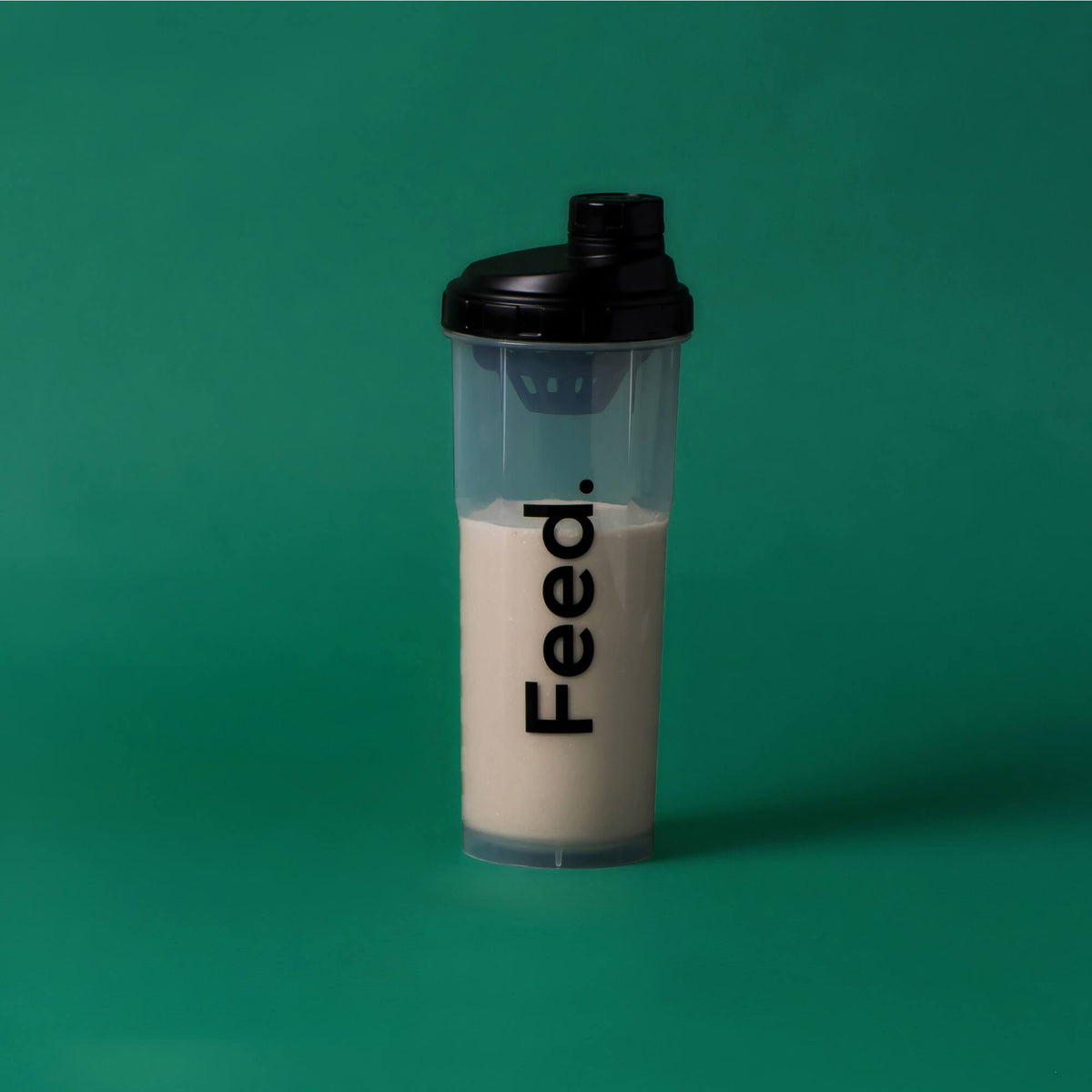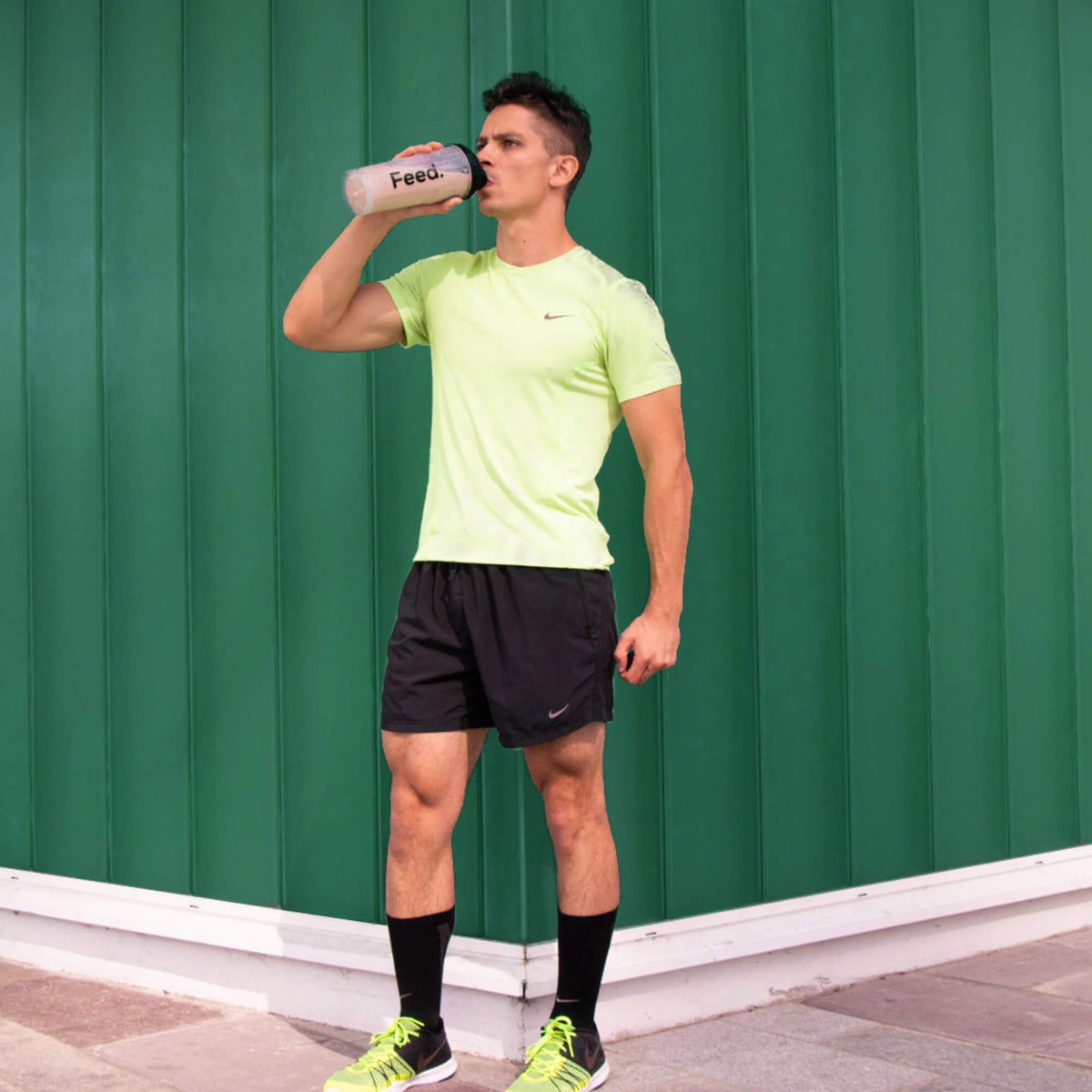 Feed. Sport meal-drink
Banana.
A creamy, fruity and high-protein drink (37g) to replace a meal as part of a sports diet. Rich in fibre and with no added sugar, it guarantees rapid and lasting satiety. With Feed. Sport , fill up on essential nutrients for optimal muscle building. Reach your goals, improve your performance and speed up your recovery by replacing any meal with a Feed. Sport shaker ready in less than 30 seconds.
Bag of 20 meals of 2.5kg.

Use your meal-drink with :
Shaker 1L
Solid and long lasting.
Nutrients.
Nutrients.
In each Feed. Sport Banana. meal-drink.
High in protein
37 g of protein from peas, oats and sunflowers. A trio with optimal amino acid intake to promote muscle building and recovery.
The banana, energy and vitality
Rich in quality carbohydrates and vitamin B6, the banana is the perfect ally for athletes.
100% VEGAN & GLUTEN FREE
We only use high quality, plant-based ingredients that are naturally gluten-free and GMO-free.
No added sugar
The drink contains only the sugars naturally present in the banana. That is less than 5 g per meal.
500 kcal per meal
Each meal drink provides 500 kcal, ideal for a healthy, balanced meal ready in less than 30 seconds.
26 vitamins and minerals
Essential for the proper functioning of the body. More than 180 scientifically proven benefits for good health.
Quality ingredients.
Ingredients.
Peas, flax, rice, oats...
Each Feed. Sport mealtime drink is made from ingredients carefully selected for their nutritional properties, all of which are plant-based and naturally gluten and lactose free.

We add a unique blend of 26 vitamins, minerals and trace elements to give you just the right amount of vitamins C, A, E, D, B12, B9, iron, calcium, zinc and many more.

We also strive to keep our impact on the environment to a minimum by selecting 100% vegan ingredients with a long shelf life to avoid food waste. As for our packaging, it is recycled and recyclable.
See the ingredients
Read more.
Read more.
On the meal drink Sport Banana.
The meal drinks Sport are high-protein meals with no added sugar, intended for beginners or experienced athletes. Whatever your level, nutrition is the key to success in sports performance, muscle building and recovery.
Healthy, convenient and 100% plant-based, they provide you with all the essential nutrients wherever you are. Thanks to the 2.5kg bag, you can adapt the portions according to your needs or desires. Our meal drink can be taken before or after your session.
To sum up
37 g of vegetable protein.

Improve your performance and recovery.

Bulk up.

Ideal for athletes of all levels.
Preparation.
Pour 500 ml of water into the shaker.
Add 3 scoops (125g) of Feed. Sport powder.
Shake! Drink up!
Storage.
Store the sachets in a cool, dry place.







Your questions.
Your questions.
Our answers.
Today, producing 1 kg of plant proteins requires up to 6x less water than producing 1 kg of animal proteins. So they're much better for the planet. The variety and complementarity of plant sources (oats, peas, rice) in our Sport recipes guarantee an optimal essential amino acid profile! 
At the hall. In the office. On the road. At home.
Morning. Lunchtime. In the evening. Or as a snack.
Our meal drink can be taken before or after your session. To make the most of the nutritional benefits of your meal.
On non-training days. To maintain a sufficient protein intake to combat muscle wasting.
In short, whenever you need it. It's up to you to adjust your intake according to your needs and desires.
Preparation.
First pour 500 ml of water into the shaker. Add 3 scoops (125g) of Feed. Sport powder. Shake well! Enjoy!

Water, milk, plant milk.
We recommend mixing with water, but you can also use milk or plant milk without any problem (although this will alter the nutritional value of your meal-drink).

Temperature.
We recommend preparing your shaker with water at room temperature. Heat can damage the vitamins and minerals in our recipes, which are sensitive to heat.
Yes, you can eat them every day to build muscle mass. However, for a balanced diet, you need to remember to eat a variety of foods!

No contraindications except in the following cases:
Children and adolescents. Their nutritional requirements differ from those of adults.
Pregnant women. Caution with vitamin A and soy. Please ask your doctor.
Special diets. Ketogenic or low in FODMAPS or certain vitamins & minerals.
In case of renal insufficiency.
The expiry date for mealtime drinks Sport is 12 months from the date of manufacture. In general, you should not receive products with an expiration date of less than 3 months.
We recommend that you keep your packets in a cool, dry place.
None of our powders contain allergens. This is the result of relentless R&D and a rigorous selection of quality ingredients.
Banana. (Bag 20 meals / Sport)
Banana. (Bag 20 meals / Sport)
Simple good fast
The banana feed is very good, with a taste that's not too pronounced. There is no piece of fruit, which makes it easier to drink.
As described
In preparation for the EcoTrail 80Km _(finisher last week) .
This allows me to go to swimming training during lunch break or in the evening as a meal replacement with a dairy or a fruit.
conforms to my expectations, a banana taste that goes well
Banana. (Bag 20 meals / Sport)
Very Good
Probably the best of the 4 tastes!
Good taste, I was used to vanilla and hazelnut, a first with this one.
The texture is very very thick, weird at first but the impression of eating mashed banana (not unpleasant!)
A bit nauseating at the end of the full shaker but very good otherwise :)
super... banana meal drink, a daily ally and a success
adopted in my daily life on 2 or 3 meals per week at lunchtime, it helps me to regulate the calories, or eat something consistent on days when I have no time! top