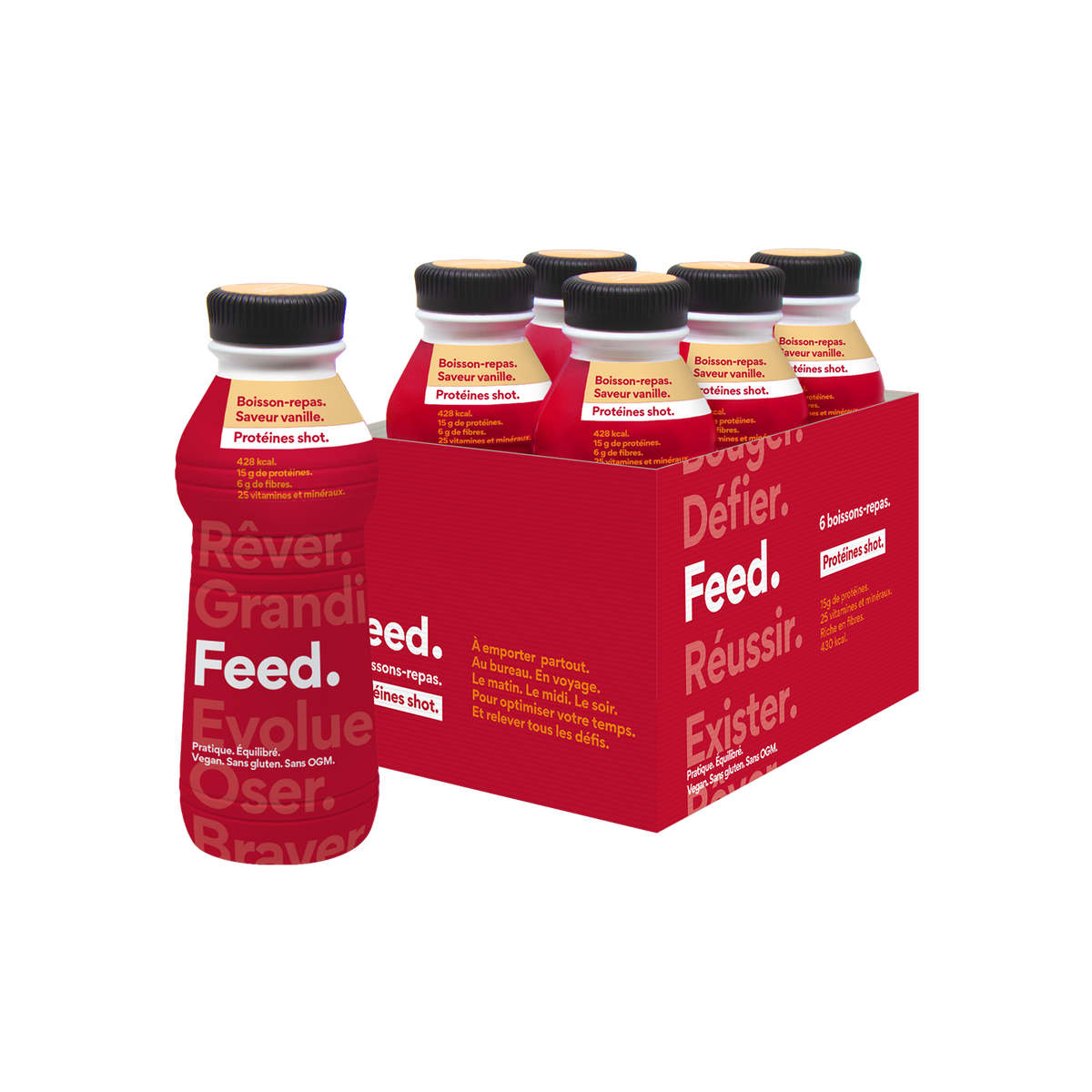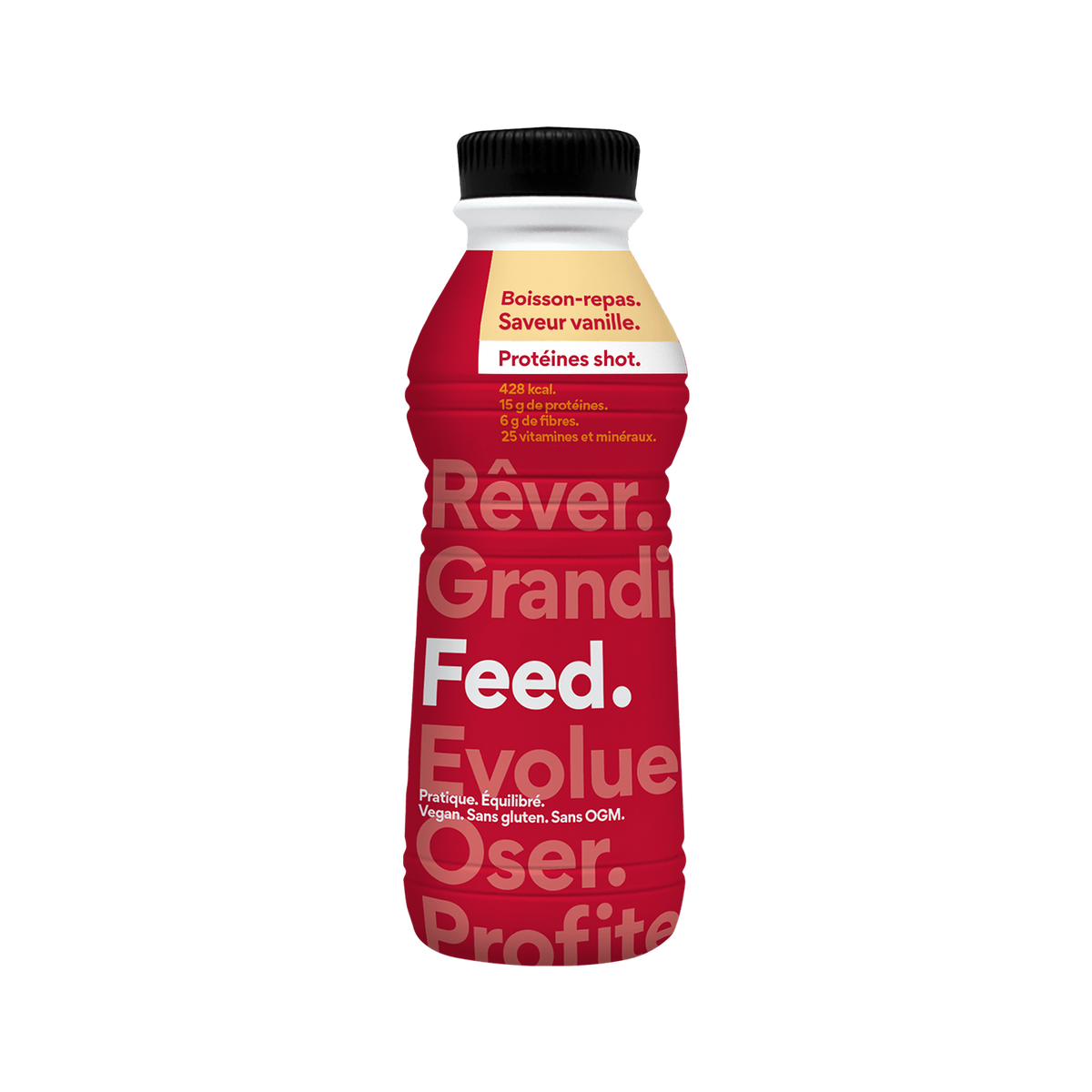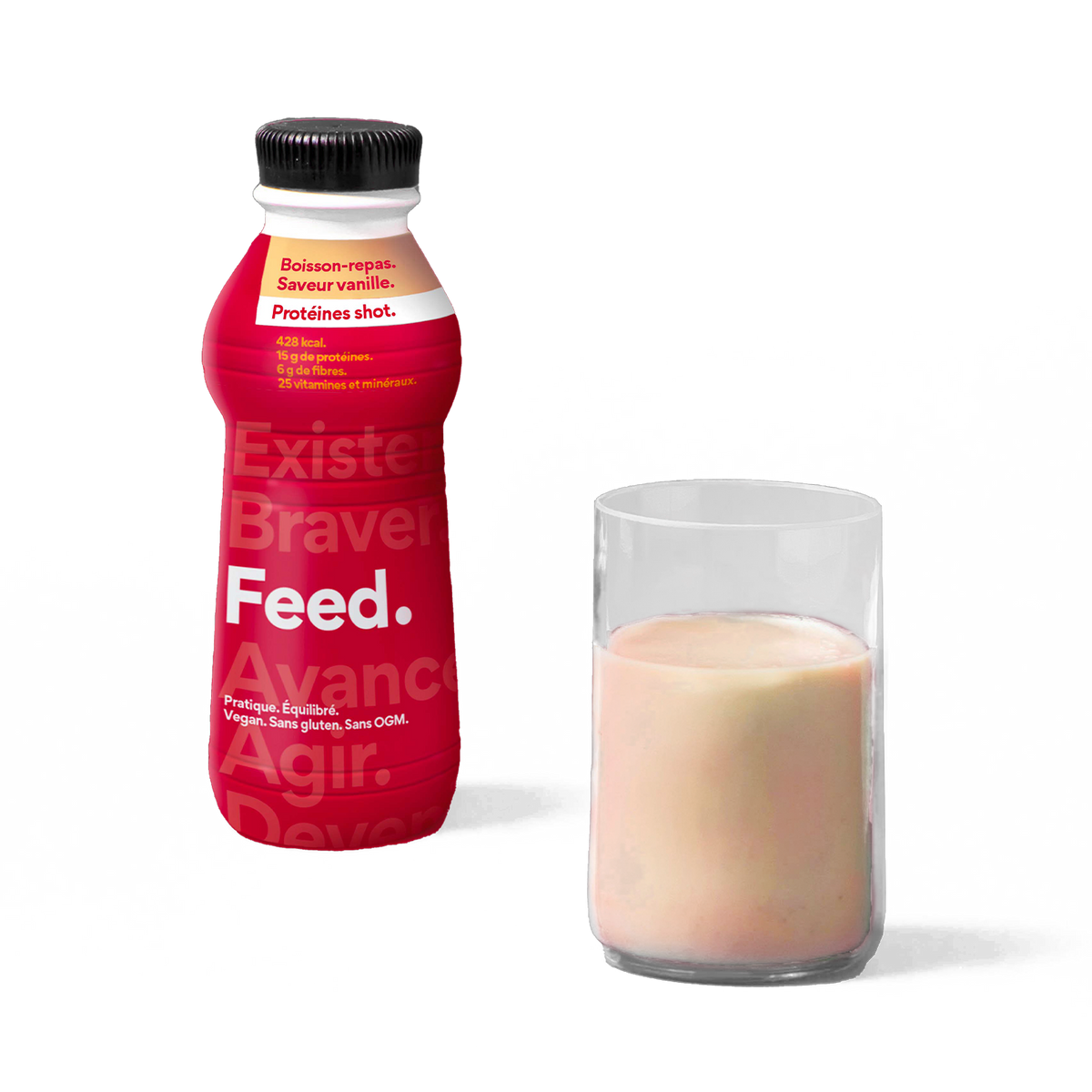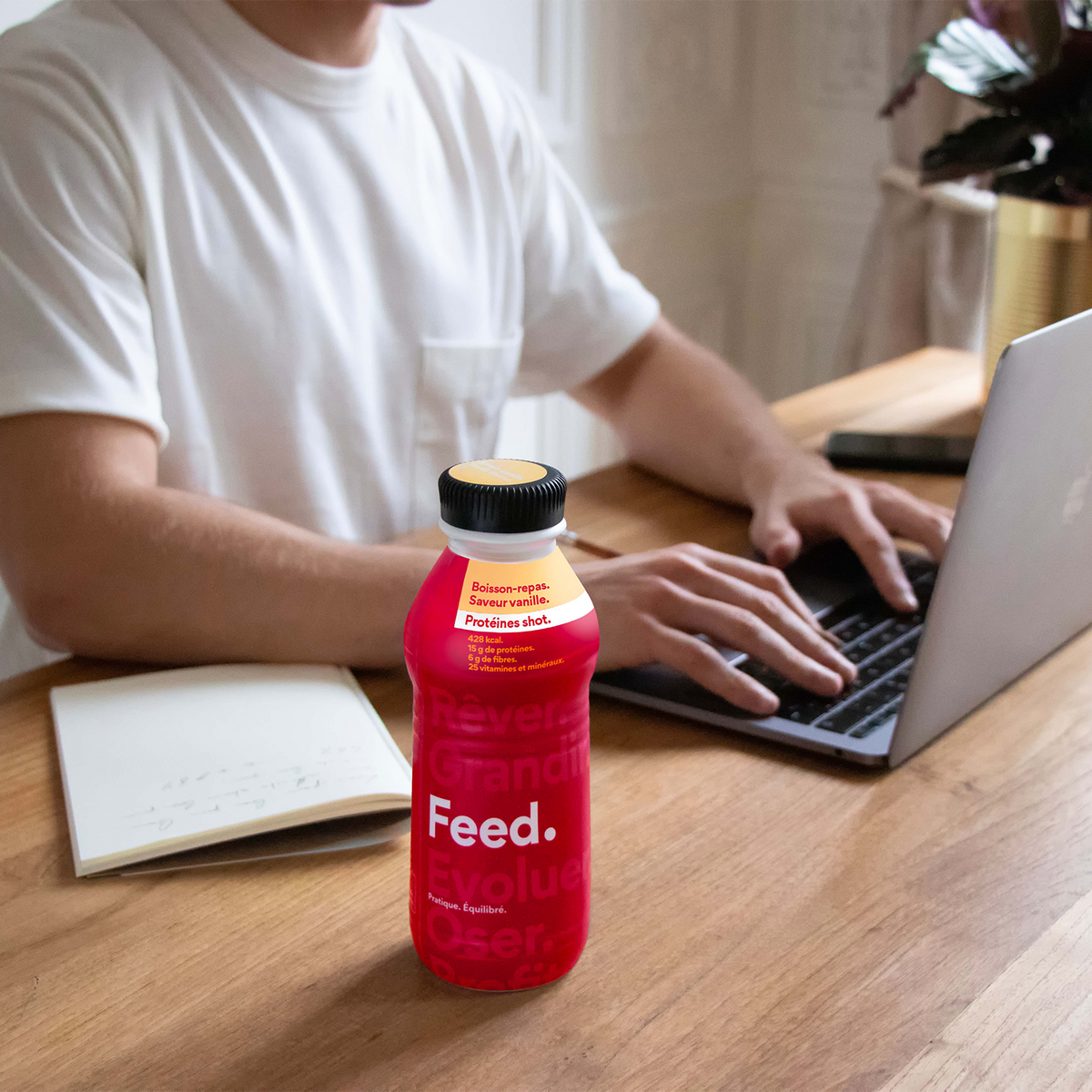 Ready to drink Feed. Original - Sold by 6.
Vanilla.
Perfectly balanced Vanilla. meal-drink!
A ready-to-drink drink
of 500ml
Smooth and vanilla flavoured. All the nutrients you need for a convenient, healthy and complete meal.
At any time of the day, replace any meal with Feed. Original ready-to-drink.
Nutrients.
Nutrients.
In each Feed. Original Vanilla. meal-drink.
Perfectly balanced
Each drink contains more than 15 g of plant-based protein, as well as all the low-GI carbohydrates, essential fatty acids and omega-3s that the body needs.
Rapeseed and Omega-3
Rapeseed oil is one of the richest in Omega-3, a fatty acid essential for the proper functioning of the brain, heart and eyesight.
Gluten-free
High-quality ingredients for a certified 100% gluten-free and GMO-free meal-drink.
No added sugar
Contains only the sugars naturally available in the fruit in our recipes. Less than 4 g per meal.
430 kcal per meal
Each serving provides 430 kcal, perfect for a complete and balanced meal.
25 vitamins and minerals
More than 180 scientifically proven benefits to stay healthy.
Quality ingredients.
Ingredients.
Corn, sunflower, rapeseed...
Each Feed. Original ready-to drink meal is made from naturally gluten-free ingredients such as rapeseed, soja, sunflower, corn...

We use a unique blend of vitamins, minerals and trace elements to bring you the right amount of vitamins C, A, E, D, B12, B9, iron, calcium, zinc and many more (25 in total).

Feed. has a minimum impact on the environment: 100% vegan, eco-friendly packaging, reduction of CO2 emissions, recycled and recyclable packaging, long shelf life to avoid food waste...
See the ingredients
Read more.
Read more.
Learn more about meal-drinks
Our Vanilla. ready-to-drink is a balanced meal, very convenient and easy-to-digest.
Whether you're in a hurry, at the office, on a trip, in a museum or commuting, don't compromise your nutrition. This ready-to-drink is for you!
Replace any meal at any time of the day.
To sum up
Perfectly balanced.

Ideal to keep your diet on point.

Replaces any meal.

All essential nutrients including 15 g of protein.
Preparation.
Shake! Drink! Best served chilled.
Storage.
Store the bottles in a cool, dry place.







Your questions.
Questions.
Our answers.
A meal drink contains all the micro and macro nutrients you need. Protein. Carbohydrates. Lipids. Fibres. Vitamins & minerals. Designed by nutrition experts, to have a super convenient meal. Simplify your daily life. And hold on until the next meal.
At work. On the go. On a hike. At home.
In the morning. Noon. Or evening. Whenever you need it.
When you want to save time. Optimize your day. Avoid skipping meals. It's up to you to adjust your consumption according to your needs and desires.
Our ready-to-drink meals have a smooth, creamy texture like drinkable yogurt.
Yes, you can eat it every day for a period of time. However, to have a balanced diet, you have to think about eating a variety of foods!

No contraindications except for the following cases:
Children and Adolescents. Nutritional needs are different from those of an adult.
Pregnant women. Precaution vis-à-vis vitamin A and soy. Do not hesitate to ask your doctor for more information.
Special diets. Ketogenic or who must be low in FODMAPS or certain vitamins & minerals.
The expiration date for ready-to-drink beverages Original is 12 months from the date of manufacture. In general, you should not receive products with an expiration date of less than 3 months.
We recommend that you keep your bottles in a cool, dry place.
They are even better fresh.
Super good
Super good drink better than bars very good taste and good in terms of quantity
Excellent 👌🏻
I love !!!! As someone who is allergic to dairy products, this replaces all dairy products! This product is great and very easy to digest! Thanks
Feed
Package arrived quickly. Perfect.
Very good service
Quality product that lives up to its promise and the delivery service is very efficient. I've already recommended this product, very practical.
Everyday savior
The vanilla taste and texture are not overpowering. The balance is good and Feed makes my busy days easier. Its ease of use and pleasant taste easily replace a meal from time to time. Feed definitely deserves five stars and I hope to find packs with more varied flavors or that can be composed.
Vanilla. (PAV de Bouteilles / Original)
Good balance of taste / consistency / satiety
I recommend. The vanilla flavor is sufficient, and not overdone (it doesn't feel chemical). The whole bottle is a real "meal", it is not drunk in a minute. Just keep in mind that it doesn't replace a real meal in the long run. But it's really good to get you through the day.
Top
Very good when you can't have lunch
Very good taste and nutritious!
Very good taste and nutritious!
Vanilla. (PAV de Bouteilles / Original)